Streamline your business processes with Power Automate
Previously known as Microsoft Flow, Power Automate allows you to create workflows that automate tasks between Microsoft services or other third-party applications. You can think of Power Automate as your personal assistant – making quick work of repetitive manual tasks. 
Boost productivity across your entire organisation

Automate quickly and securely

Put intelligent workflows to work 
Why Power Automate?
With Power Automate, you can leave the manual approach to tasks and digital processes in the past. By automating core processes throughout your organisation, you can free up resource for other aspects of your business, such as customer relations, research and innovation. 
Streamline repetitive tasks – With Power Automate you can automate tasks thanks to the possibilities offered by Artificial Intelligence. This allows you to free up time usually spent on tedious manual tasks and focus your energy on pursuing your business goals.   
Securely work with data – Backed by a series of cloud services designed to protect your data, the Power Automate platform offers a user-friendly no-code guided experience. This enables everyone to securely automate workflows at whatever scale works best for your business.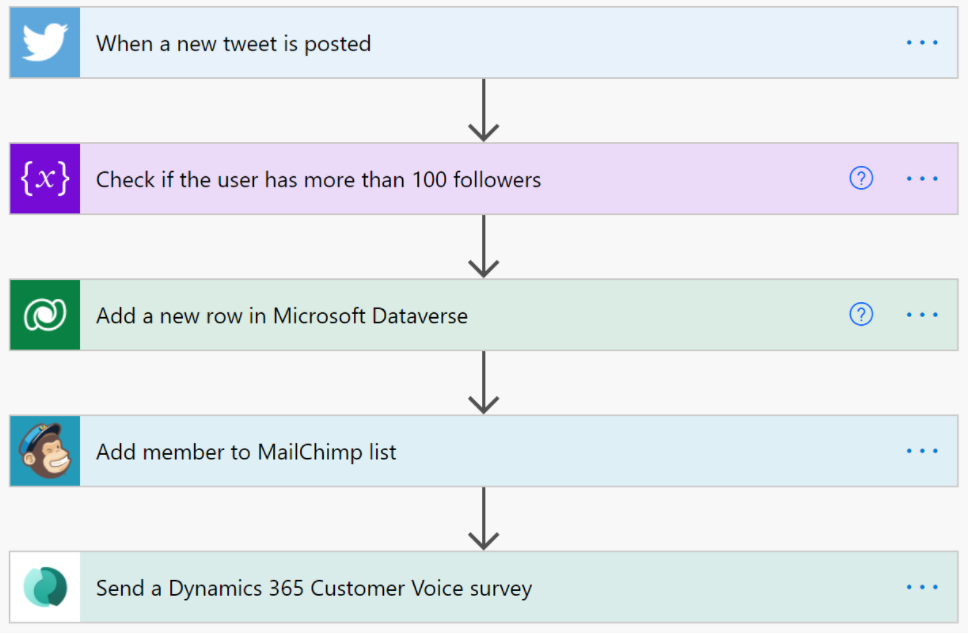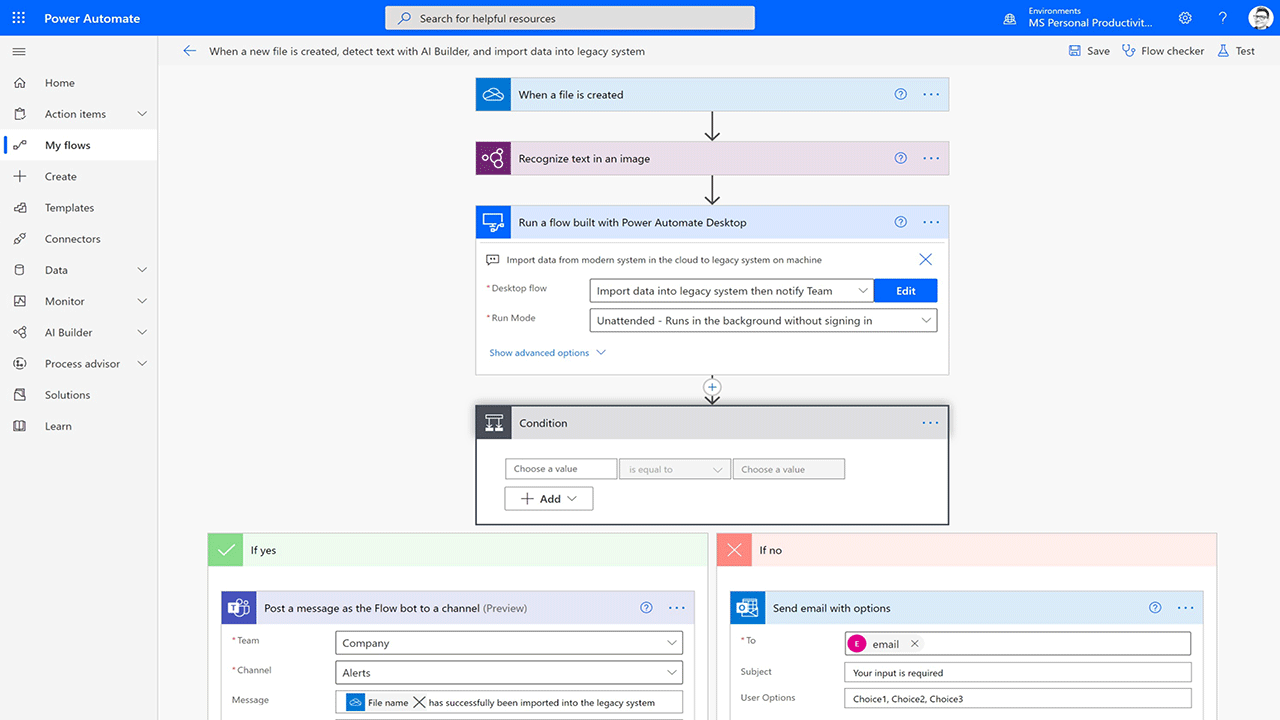 Save time with Robotic Process Automation (RPA) – The advanced Robotic Process Automation (RPA) capabilities of Power Automate save your organisation time and effort by simplifying process automation. Whether you're automating tasks using legacy systems or innovative technology, with a few simple clicks you can set up rules and let the platform do the work.
How Power Automate works
When it comes to automation, the possibilities are endless. As well as using pre-built templates from Power Automate, you can create your own automated workflows between apps, effortlessly setting up functionalities such as alerts, emails and push notifications. Here's how it works: 
Create a workflow – Use Power Automate to create an original multi-step flow, or choose from hundreds of templates. You can connect to over 150 data sources (or connectors) to collect data, synchronise files, and receive notifications. Then create workflows which can be scheduled, triggered manually, or automatically performed based on actions. 
Easy and seamless integration with other applications – Beyond moving data around, Power Automate can formulate automated workflows that connect you to your data as well—irrespective of its location. This enhances team collaboration and productivity across your organisation, creating seamless integration with OneDrive, SharePoint and Dynamics 365. 
Keeps processes consistent – Once a workflow is set up in Power Automate, the workflow acts in the background to alert you to specific notifications, upload files, and completed desired automated tasks. You can easily trigger workflows to update records in another system, highlight the new field to an employee or even check if the records match another data source. 
Power Automate services
If you're looking to start your journey with Power Automate, we can help. Bridgeall is a leading Microsoft Gold Partner that provides a range of services to support your journey with Power Automate. We have a specialist team of Microsoft certified consultants and developers who will work with your organisation and align your business intelligence to your business objectives.  
We are Microsoft Gold Certified in cloud platform and cloud productivity and provide a full range of advice, implementation, licensing, training and support services for your business.
Our Power Automate briefing is designed to provide you with a complete overview of the capability available. Whether you are exploring your options or want to get started, we will discuss your individual requirements to ensure the best solution to meet your needs.
We offer a range of training services to empower your users to make the most of Power Automate. 
Our Power Automate training will give you hands-on practical experience led by our expert Bridgeall consultants. The training is designed to accelerate your Power Automate experience and teach you how to get started with your own workflow.