According to a Forrester survey roughly between 60% and 73% of all data within an enterprise goes unused for analytics. In an age where deeper insights are a necessity for competitive advantage, this is concerning for any business. 
A common reason for this is goal tracking systems are disconnected from your business data and often require manual updates. Not only that, but goals need to be optimised for teamwork, tightly integrated into core business processes, and easily extended. 
Enter a new solution from Microsoft. At the recent virtual Business Applications Summit, Microsoft announced the launch of Power BI Goals. It has been designed to empower users to make data-driven decisions and stay on top of team or individual targets. We take a closer look at what this means for users. 
What 

is

 Power B

I 

Goals?

 
Power BI Goals is a set of tools in preview that lets customers tap the AI capabilities in Power BI. It is a data-driven, collaborative, and adaptable way to measure key business metrics and goals built directly on top of Power BI.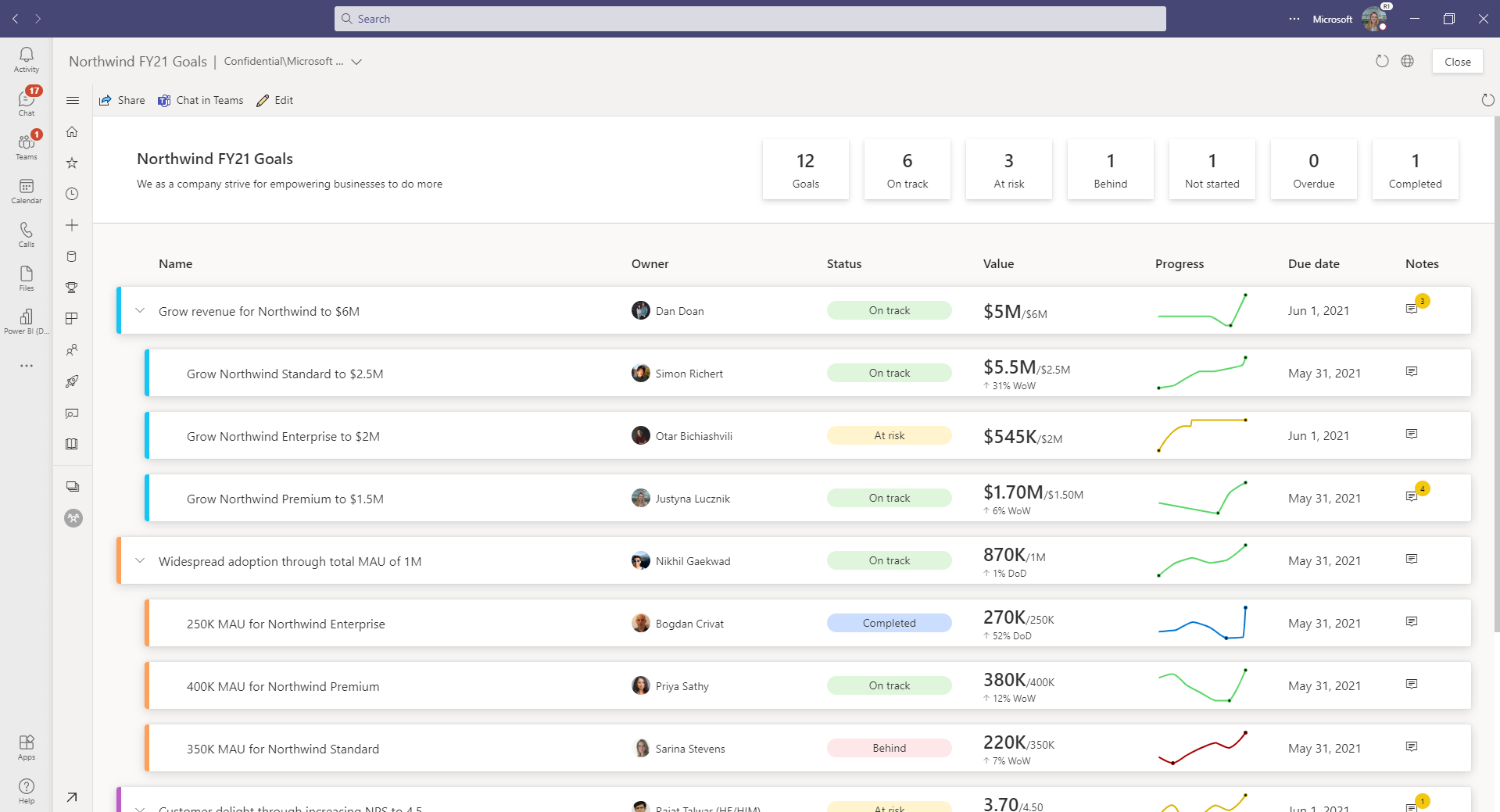 Goals enables teams to easily curate business metrics and aggregate them in a unified view. From there:  
Teams can measure progress against their goals

 

Proactively share updates with their teammates

 

Dive deeper into their data when something needs further analysis

 

Users can easily monitor the health of their business. Bringing in data across multiple Power BI workspaces and create

visual 

scorecards to drive impact.
Getting started

 with Power BI Goals
To get started, you can head over to the Power BI service and select Goals from the navigation pane. 
The Goals tab is a centralised hub that makes it easy for users to stay on top of their goals, and navigate to scorecards they have access to. Scorecards bring together all the different goals and/or subgoals you are tracking. Users can assign owners to a goal to drive alignment and accountability.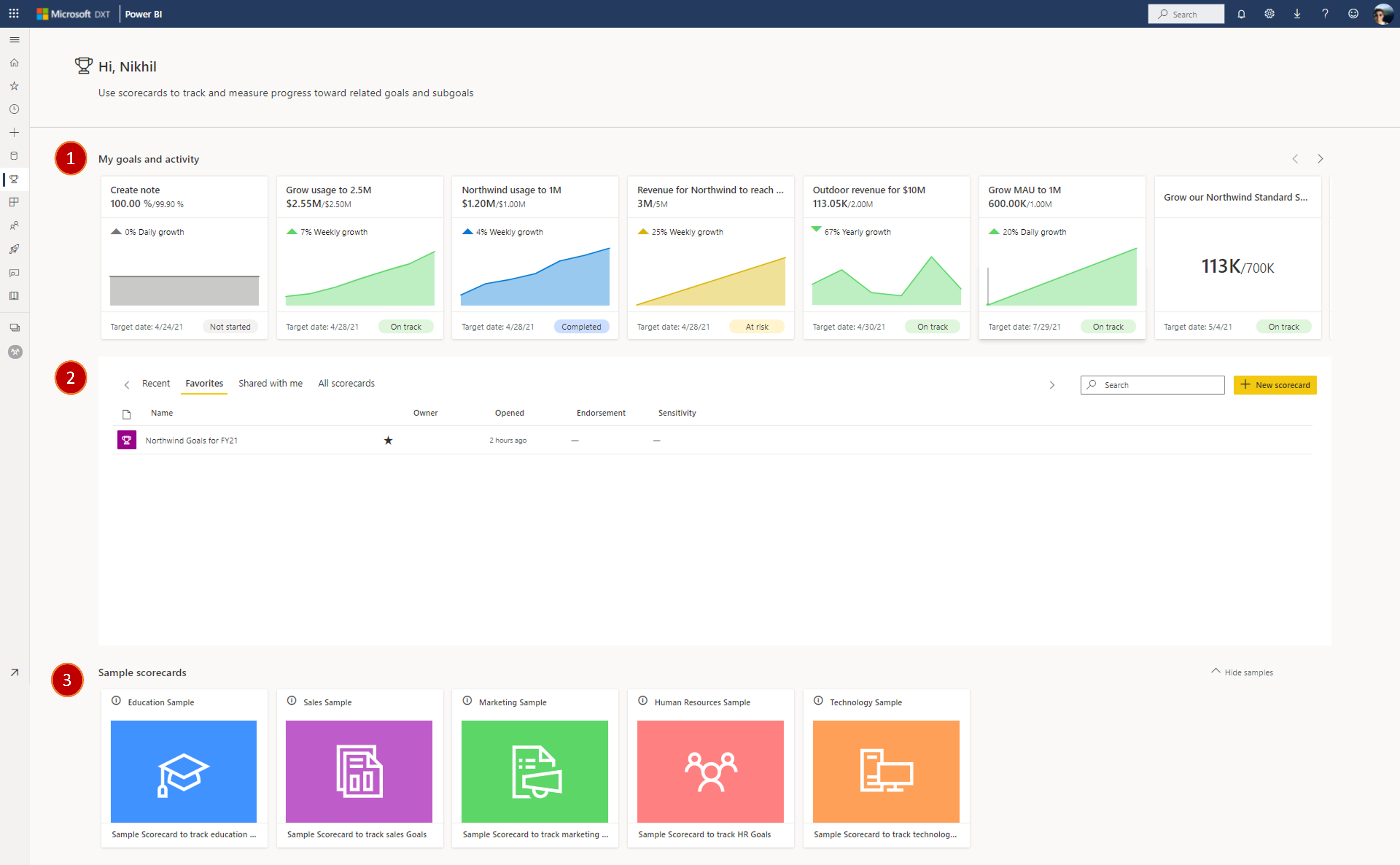 In addition to seeing all your goals in one view, scorecards make it easy for you to dig deeper into the data. You can also add notes to proactively keep the team up to date with your progress. You can find out more on how to create a scorecard here.
What's next for Power BI Goals?
Microsoft plans to keep developing Goals further, here are just some of the things you can expect:  
Goals on Mobile – Expect a first-class mobile experience for Power BI Goals making it easy to perform check-ins and see the status of your goals. 
Automated status rules – Goals have a status to let users easily know if something is on track or behind.  Rules can be data driven and users do not have to update statuses manually. 
Rollups – Users will be able to define rollups (e.g. sum, average , % of total) to determine how sub-goals roll up to their goals.
Customisations – A rich set of formatting capabilities will allow you to customise your scorecards based on your organisational needs.
Scorecard visual – A scorecard visual is coming to Power BI Desktop to enable you to place a scorecard alongside other visuals directly in your reports. 
Power Automate integration – You will be able to automate your business workflows based on triggers and actions such as a goal changing status.
Can I start using it?
Power BI Goals is currently in preview, and available to premium users. We expect it to be fully released later in the year. Users can read more about the tool and try it out here.
For more information on Power BI Goals or how Power BI could benefit your business, get in touch with our team for a Power BI demo and briefing. You can also learn more about Power BI and the Power Platform with our comprehensive guide below.