To deliver value in a rapidly changing business environment, the Modern Intranet requires the following features:
Speed of implementation
Convenient UI and UX
Mobile friendliness
Content personalisation
AI-powered functionality
Integrated working environment
Social emphasis
Advanced analytics
See our previous blog post – Thinking of Modernising your Intranet?
Deployed effectively, recent improvements in SharePoint provide organisations with an attractive option for building agile, modern, user-centric Intranets delivering personalised user experiences. Intranets that become the flexible hub supporting your digital workplace strategy.
Modern SharePoint Intranets deliver fast, agile, customised user experiences that work seamlessly across all platforms and devices; providing the tools, systems and capabilities to design and build sites that help people and organisations achieve more.
As a Microsoft Gold Partner x8, Bridgeall have successfully implemented modern Intranets for a broad range of public and private sector organisations. 
Working with your internal team, we can build a Modern SharePoint Intranet for your organisation delivering fast, agile user experiences. An Intranet site customised to meet the specific needs of your organisation, supporting staff and team productivity, optimised for full accessibility across all devices.
You can view examples of what your SharePoint Modern Intranet might look like by clicking on the image below.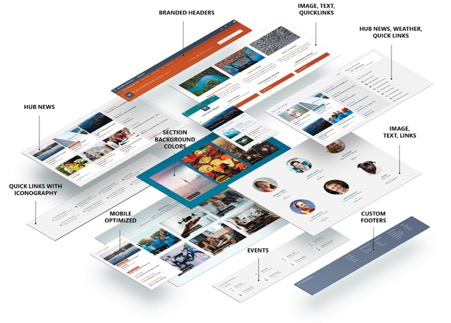 Please do not hesitate to Contact Us if you would like an informal chat about your Modern Intranet requirements. You can also download our SharePoint guide below for more information.