According to a recent Microsoft post, more than 13 million people worldwide are now using Teams on a daily basis, with more than 19 million using it weekly.
Available in 53 languages across 181 markets, the number of employees using Teams now exceeds Slack, Microsoft's closest competitor in the Enterprise Social Software market. This includes well-known brands such as Emirates, FedEx, Lexmark, The Adecco Group, KONE, and McCann Worldgroup.
The exponential growth in Teams usage has been remarkable give that it was only launched two years ago this week as part of Microsoft 365, an integrated set of apps and services designed to transform workplace collaboration, streamline business processes and protect mission critical information.
Teams sits at the center of Microsoft 365, the hub for teamwork combining chat, video meetings, calling and files into a single, integrated app – see previous blog posts for a more detailed overview of Microsoft Teams.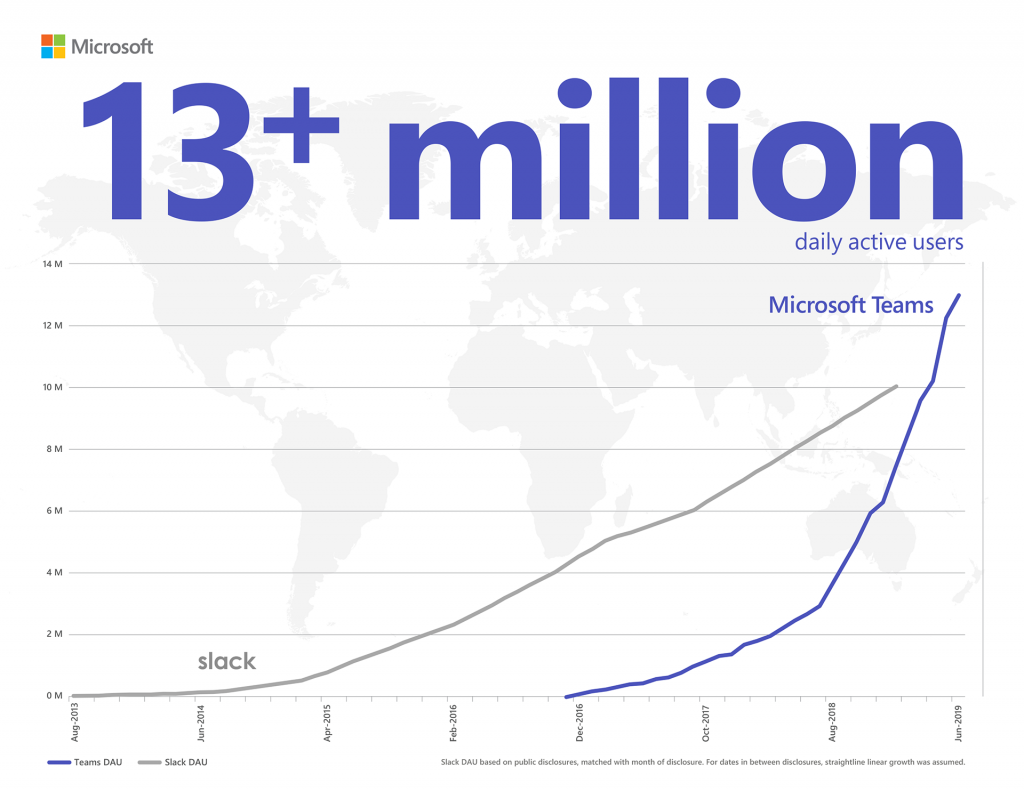 The post also announced new Teams capabilities aimed at making it easier to use, communicate and collaborate.
Prioritise time-sensitive communications. Two new features ensuring that important messages 'get through' and are read – priority notifications and read receipts in chat.
Easily manage communications within and across teams including announcements allowing team members to highlight important news in a channel such as a contract win, new project kick-offs, events etc; channel cross posting allowing users to post a single message in multiple channels at the same time; and channel moderation allowing moderators to manage what gets posted in a channel and whether a post accepts replies.
Making it easier for Firstline Workers to manage their schedules and receive updates through a new time clock feature providing workers with the ability to clock in and out of shifts and breaks from within their Teams mobile app; targeted communications allowing team owners to message everyone in a specific role at the same time by @mentioning the role name in a post.
Making it easier for IT administrators to deploy the Teams client and manage policies for all staff across the organisation.
Additional improvements are being implemented for contact centers enabling integration between Teams and contact center solutions. This includes call recording for compliance and workforce management allowing shift schedule information to be viewed with near real-time accuracy within Teams Shifts and for Firstline Workers to request changes to their existing shift schedules via the Teams app.
You can access the full article here.