Previous blog posts have discussed how Microsoft is positioning Teams as the 'enterprise hub for teamwork' – the platform for workplace communications, collaboration, innovation and workflow efficiency.
To quantify the benefits of Teams for organisations and employees, Forrester Consulting conducted a Total Economic Impact™ Study of Microsoft Teams, commissioned by Microsoft.
Based on a survey of over 260 Teams customers across a wide range of industries, the main business objectives for implementing Teams are shown below:

Forrester study: The Total Economic Impact™ Of Microsoft Teams.
Key Benefits from Implementing Teams
The study uncovered 11 benefits of using Teams as a primary communication and collaboration tool with the top four benefits being as follows:
Teams reduces the total number of meetings and their duration: Online meetings conducted over Teams are reliable and of very high audio-video quality. As a result, employees spend less time addressing setup and call quality issues, and more time interacting. The total time savings equal $6.9 million.
Information workers save four hours per week from improved collaboration and information sharing: With Teams features like coauthoring, integrated file storage, and internal directory, information workers can effectively and efficiently collaborate in real-time. The potential savings equal more than $14.3 million.
Information workers save more than one hour per week by not having to switch between applications. Access to third-party and line-of-business apps inside Teams from any device benefits all workers, especially remote workers. This creates better employee cohesion and a common corporate culture across locations. The total savings are nearly $4.8 million.
Having resources available online in Teams reduces downtime by 14.6 percent. When resources are available in one cloud-based location, downtime is reduced and complexity is lowered, making security and compliance easier. Compared to on-premises solutions, the time savings are worth $258,000 across information and Firstline Workers.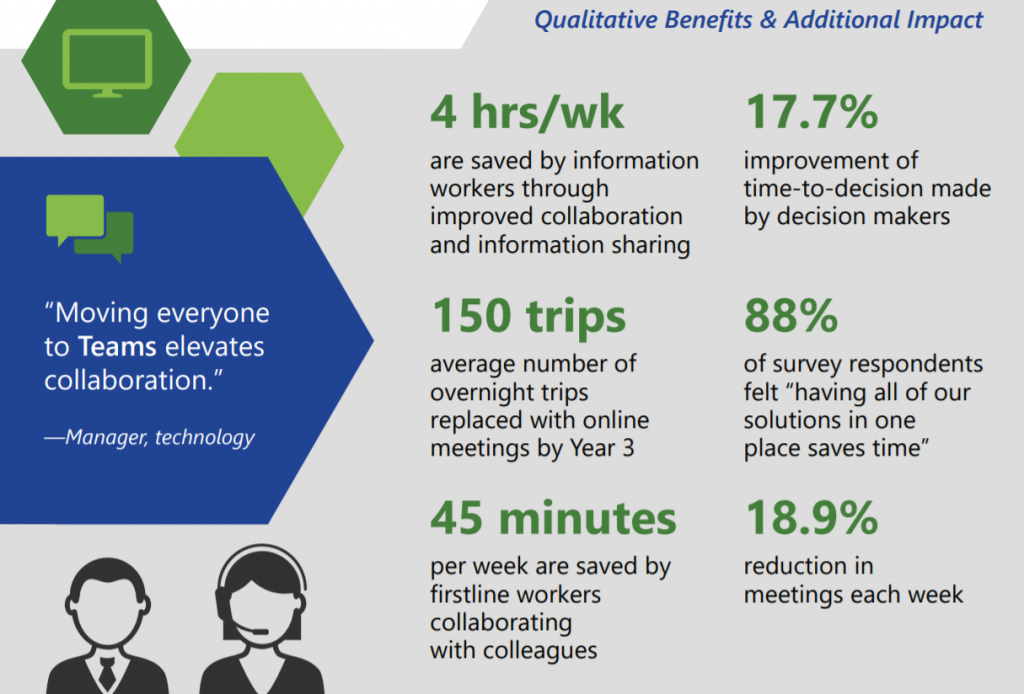 Forrester study: The Total Economic Impact™ Of Microsoft Teams.
Overall, customers were pleased with Teams and how well it integrates with the rest of Office 365. They cited associated cost savings as a key factor in adopting Teams. For a standard 5,000-user organisation, the study reported benefits and costs of roughly $30.3 million and $3.3 million respectively, resulting in an overall net benefit of $27.1 million over three years.
You can download the full report here – Forrester Total Economic Impact™ Of Microsoft Teams.