The Microsoft Inspire digital conference was held in July, and alongside several new announcements we learned about Copilot for Sales. Microsoft has been putting in a lot of investment into the AI space with Copilot being introduced into many of its products. In this article we cover more about the announcement and what you can expect from Sales Copilot.
What is Sales Copilot?
Sales Copilot is a generative AI-supported tool that allows sellers to generate text for emails and automate CRM tasks. The tool has been designed to empower sellers, increase productivity and personalise every customer interaction so they can close more deals. Designed to be a seller companion, Sales Copilot can be accessed in the tools where sellers work, whether that is Outlook, Microsoft Teams, or Dynamics 365 Sales, and connects to other CRM systems like Salesforce.
What capabilities do you have with Sales Copilot?
There are several capabilities within Sales Copilot, here are the main benefits you can expect:  
AI-generated lead and opportunity summaries
Get auto-generated opportunity summaries including status, progress, and highlights of key changes, inside Dynamics 365 Sales. Sales Copilot uses generative AI to summarise leads and opportunities for you. An opportunity summary is a concise overview of the status, progress, and potential of a prospective sale or deal. A "catch up" section highlights key updates since the last visit. An opportunity summary is also available in Outlook, where sellers can view a brief background of the opportunity and the latest activities.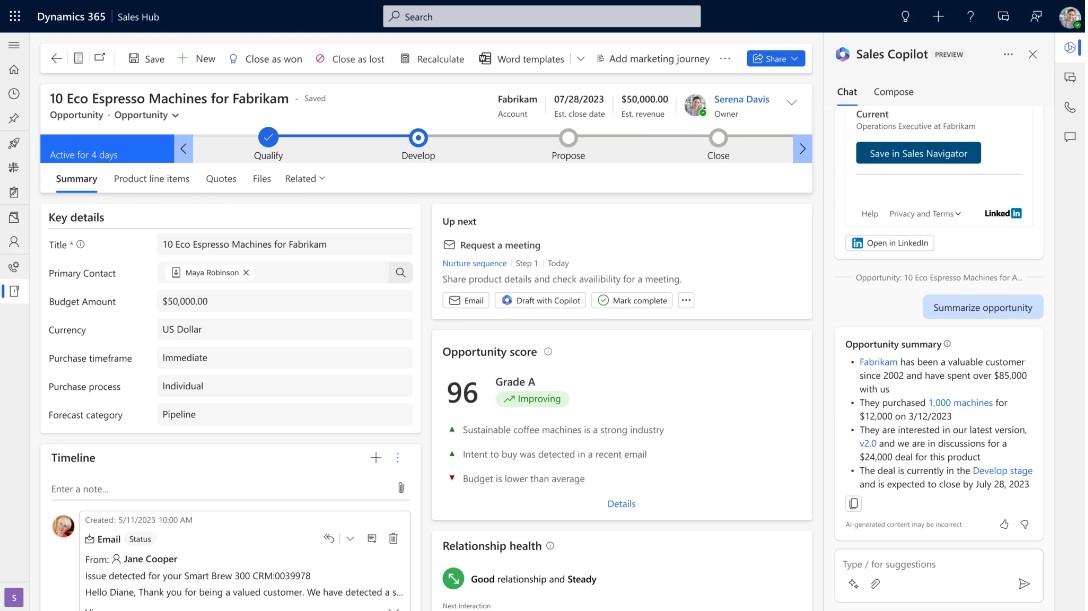 Summary, follow-up and contextual emails
Utilise CRM data to pull in product, customer and opportunity information inside Dynamics 365 Sales to give you contextual emails. Sales Copilot lets you cut down the time you currently spend composing emails. You can select a pre-defined category or enter your own text, and Sales Copilot suggests content with specific prompts and actions informed by Outlook and CRM data, helping sellers quickly follow up, reply to inquiries, and move deals forward. You can also adjust the tone and length of the message to better resonate with your customers, fostering stronger connections.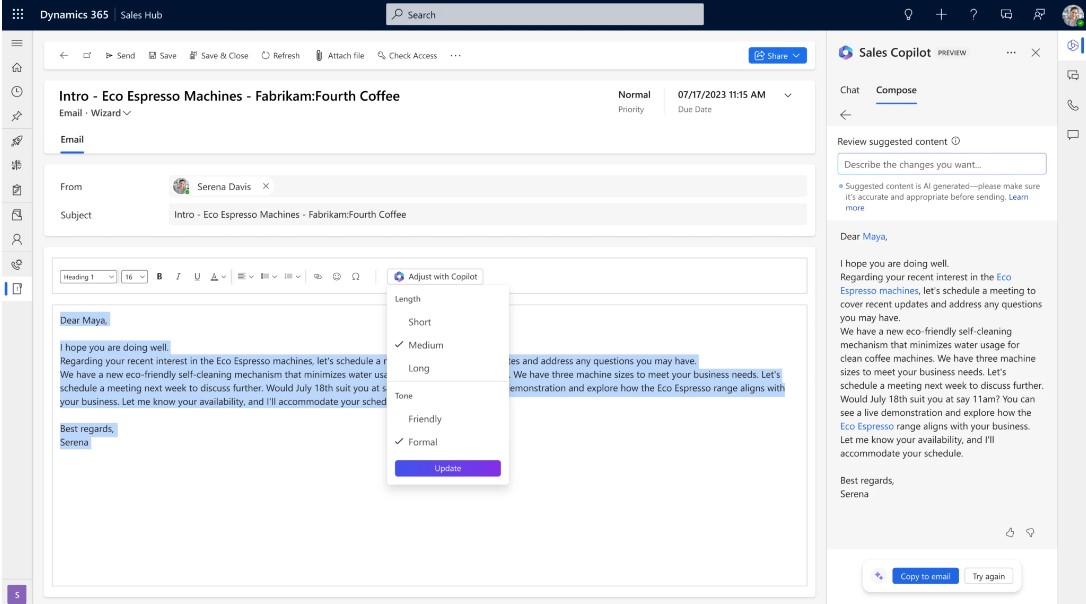 Meeting preparation and summaries
Being prepared for customer meetings is vital for sales productivity. Prepare for customer meetings with a summary view including account information, recent notes, highlights of any issues or concerns, customer news, and more—in Outlook, Teams, or Dynamics 365 Sales. Sales Copilot detects meetings coming up in the next 24 hours and offers a summary of recent email exchanges and the last three seller notes to help you prepare. After the meeting, Sales Copilot in both Outlook and Dynamics 365 Sales generates a professional and friendly meeting summary email, making follow-up as easy as clicking a button.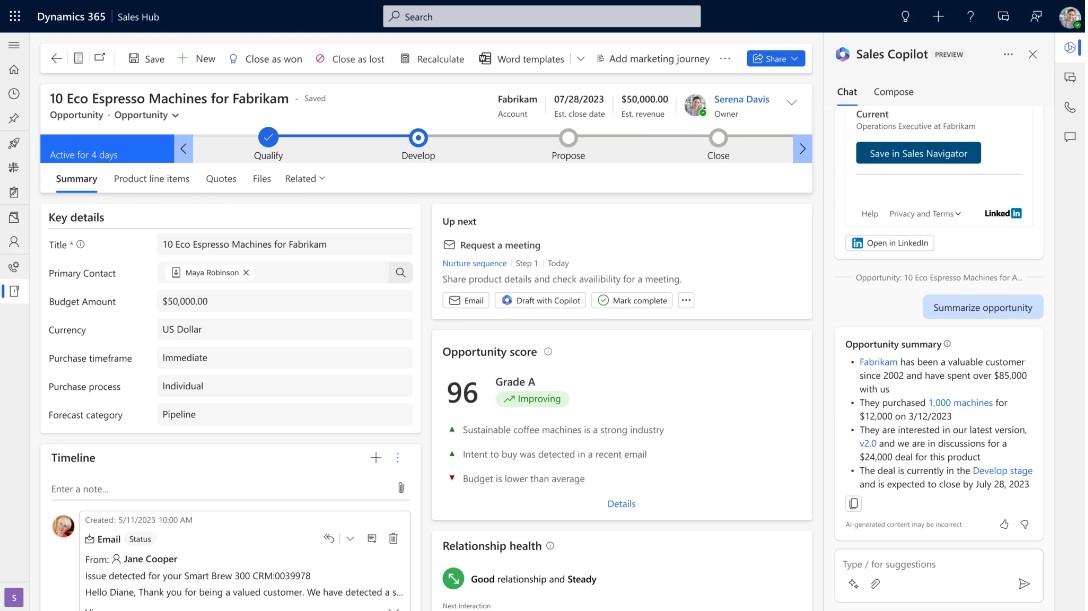 Real-time tips in Teams meetings
Get real-time tips and suggested answers during Teams meetings prompted by competitor or brand mentions by the customers to stay ready to handle objections. In Teams, sellers receive real-time coaching tips (currently in private preview) during meetings right in the Sales Copilot Teams panel, to help them respond to customer inquiries and competitor or brand mentions. It's easier to overcome objections and demonstrate that you're knowledgeable and prepared when the information you need is right in front of you.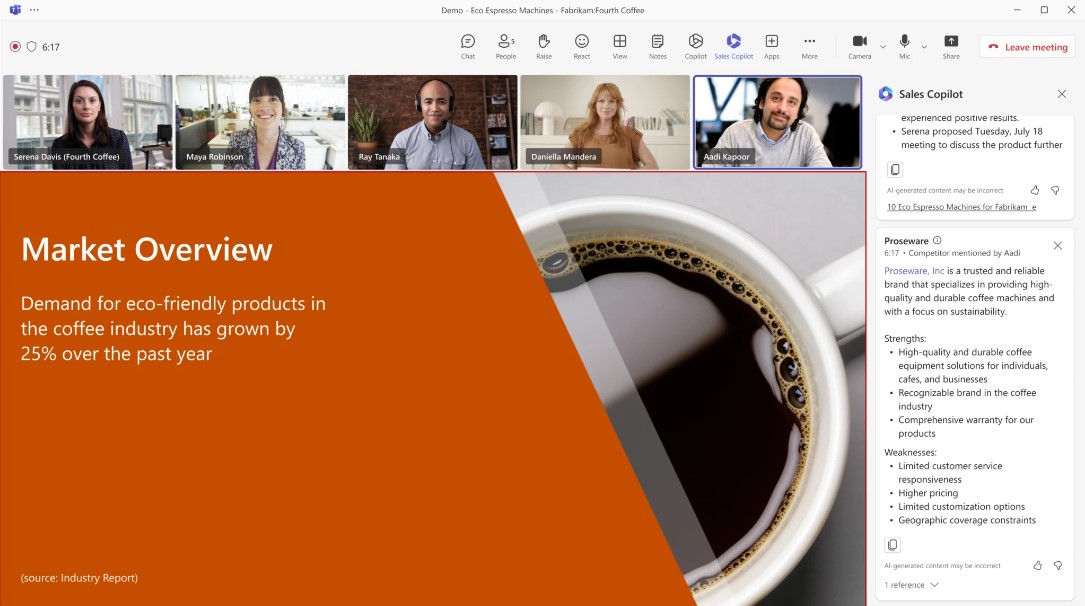 When will Sales Copilot become available?
Sales Copilot is generally available now as a standalone subscription and included as part of customers' existing Dynamics 365 Sales Enterprise and Premium licenses at no extra cost, according to Microsoft. 
If you'd like to know more about Sales Copilot or any of the points covered in this article, contact our team who can help.