Gartner has just released their Magic Quadrant for Enterprise Low-Code Application Platforms for 2020. For yet another year running Microsoft has been identified as a leader in the enterprise Low-Code Applications Platform category.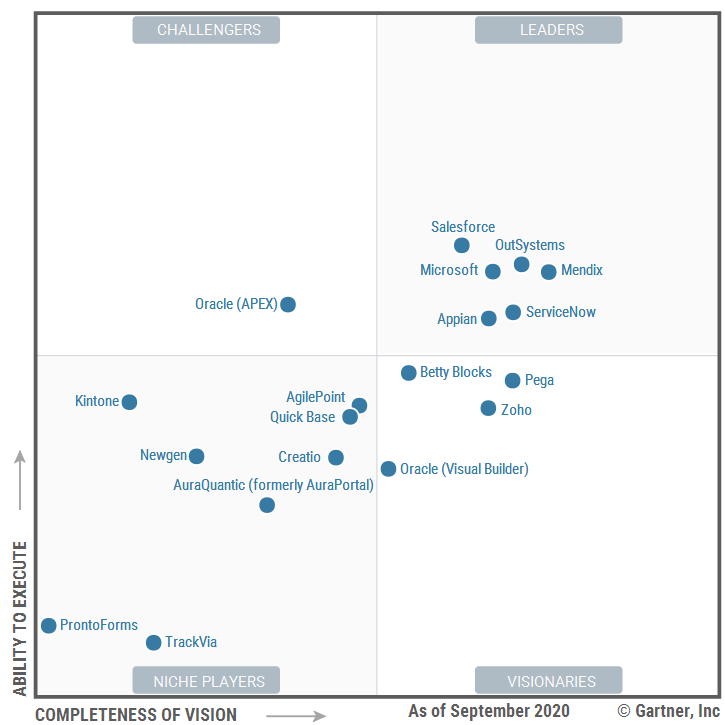 The Low Code Application Category (LCAP)
Gartner defines the LCAP category as being based on visual, model-driven applications that use simple drag and drop editors, out of the box connectors and expression languages and scripting for more advanced use.
These applications are designed to help less technical users do more and to make developers more productive.
Gartner's assessment of Microsoft
Microsoft is a leader in the Magic Quadrant. Its low code capability driven mostly by Power Apps but supported by Power Automate and Common Data Service. Power Apps operates in canvas and model-driven modes, and Power Automate provides business logic and integrations. Innovations on Microsoft's roadmap include support for Power Apps in Microsoft Teams to deploy solutions and templates, enabling remote workers, and expanding AI and RPA accessibility.
Microsoft Power Apps strengths
Product strategy: Microsoft enables fusion teams with no-code and advanced pro developer capabilities. Microsoft offers one of the simpler design-time tools in Power Apps, one that is used for designing canvas apps and that employs a drag-and-drop approach with an expression language that feels like Microsoft Excel. This makes it well-suited to citizen developers and business unit developers.
API and integration services: Power Apps and Common Data Service (CDS) have a rich set of APIs and OData endpoints available to perform full create, read, update and delete (CRUD) operations on data to support integration with third-party iPaaS. There are more than 300 data connectors available including cloud-service database connectors that cover Azure SQL, Azure Cosmos DB, Amazon Redshift and cloud-hosted versions of the on-premises systems.
Innovation: Ready-to-consume AI models allow developers to consume rich AI capabilities in their apps and flows without configuring and training a model. Prebuilt models are available to extract text from images, extract specific elements from text, categorize text, identify languages, and to perform key phrase extraction and sentiment analysis. AI Builder provides no-code support for data and visual AI models, available as an extension to Power Apps.
Discover everything you need to know about the Microsoft Power Platform including Power Apps in our comprehensive guide to the Microsoft Power Platform below.