According to a new Forrester Total Economic Impact™ study, Securing Apps with Microsoft Azure Active Directory can significantly accelerate your organisation's Zero Trust journey, delivering high value-add at lower cost.
Customers securing apps with Azure AD benefitted from a 123 percent return on investment over three years with a payback period of six months; achieved a 50 percent reduction in overall management effort for an IAM team; a 45 percent reduction in the likelihood of a data breach; and a massive 75 percent reduction in password requests through enabling self-service.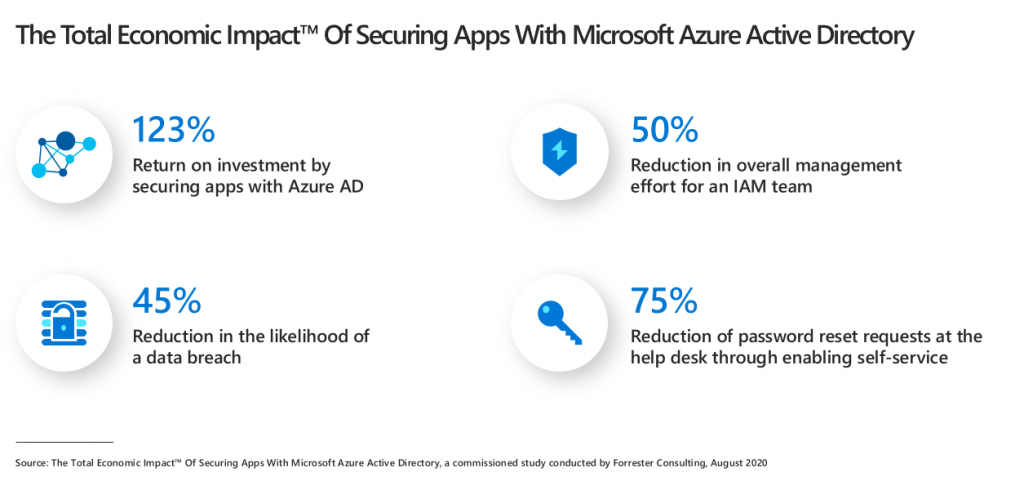 Azure Active Directory delivered improved user productivity, IT efficiencies and reduced costs in the following areas:
Increased worker productivity with secure and seamless access to all apps
Especially with the shift to remote working, signing into multiple applications throughout the day can be frustrating and time-consuming for many employees. By connecting all your applications to Azure AD, employees sign in once using single sign-on (SSO). Forrester estimates that consolidating to a single identity and access management solution, and providing one set of credentials, saves each employee 10 minutes a week on average, valued at $7.1m over three years for the composite organisations studied.
Reducing the risk of a data breach
Data breaches can be very expensive for victims and their organisations. With Azure AD, all applications can be secured making it much harder for attackers to acquire and use credentials. Common passwords can be banned, legacy authentication blocked and privileged identities protected. Adaptive risk-based policies and enforced multi-factor authentication can be used to ensure that only the right users have the right access. According to Forrester, using these Azure AD features can help organisations significantly reduce the risk of data breaches, saving an estimated $2.2m over a three-year period.
Empowered workers to reset their own passwords
With Azure AD Self-Service Password Reset, employees can reset their own passwords without help desk intervention. Forrester estimates that this self-service feature delivers a 75 percent reduction in password reset calls per month, yielding a three-year adjusted present value of USD 1.7 million.
Unlocked efficiency gains by consolidating identity infrastructure
Migrating authentication for all your apps to Azure AD can significantly reduce hardware and licensing fees with Forrester estimating savings of $1.9m on a three-year adjusted present value basis. Consolidating your organisation's identity infrastructure to Azure AD delivers additional cloud-based identity and access management benefits, freeing your IT Support Team to focus on other priorities. Forrester estimates the value of IT efficiency gains at $3.0m over three years.
As stated by one of the participants in our recent Future of Work Change Leaders Roundtable:
"The shift to remote working has created a huge cyber-security problem. It is a constant battle. Everyone needs to stay vigilant, implementing robust security systems and Advanced Threat Protection."
According to Forrester, as more employees than ever access apps via their home networks, the corporate network perimeter has truly disappeared, making identity the control plane for effective and secure access across all users and digital resources.
Perhaps it is time to consider Azure Active Directory to provide your employees with a more convenient, efficient and secure work from home experience while preserving valuable resources.
Please do not hesitate to contact our expert team for an informal chat on how Azure AD can support your journey to becoming a Modern Intelligent Workplace.
The full Forrester Report can be found here – The Total Economic Impact™ of Securing Apps with Microsoft Azure Active Directory.