This month in our Meet the Team series, we're talking to Senior Software Engineer Paul Donnelly. We find out more about Paul and his role at Bridgeall.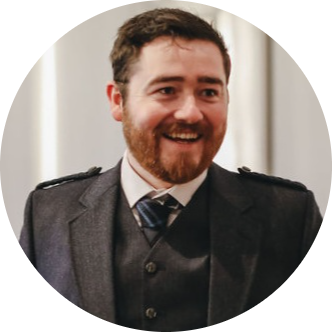 Tell us more about your role and what it involves?
I'm a Senior Software Engineer in the .Net team. Most days that will involve designing and developing custom web applications and helping to support our existing applications. Our team works on quite a broad range of projects so there's usually a good amount of variety from project-to-project. 
How long have you been working at Bridgeall?
I've been at Bridgeall for almost 10 years now. I started as their first Graduate Developer and got to see the company outgrow 2 offices.
What do you like most about your job?
The people that work here have always been the best thing about Bridgeall. The pandemic has had an impact on it but there's always been a great social vibe to the office.
What does a typical day for you look like?
Most mornings begin with a 10-minute stand-up or Teams call to catch up on the previous day and then spend most of the rest of the day on project work. This consists of anything from coding/testing to sessions with customers. I'll also have to pick up the occasional support request which can break up the day.
What is your background?

I studied Computer Science at Strathclyde University. I wasn't sure exactly what I wanted to do once I'd finished, but after only a short time at Bridgeall I was glad that I had gone into web app development. 
I have Microsoft Certifications in Dynamics CRM and I'm studying for a certification for the Microsoft Azure platform.
What is it like working at Bridgeall?
There have been some new faces over the years at Bridgeall, but it has never lost its knack for hiring talented and sociable people, which is what has always appealed to me about the company.

How have you found moving to working from home?
I've had a complete mindset change since working from home. In the past I'd only work from home when I absolutely needed to but with the proper home-office setup I've really come around to the benefits of working from home. I'll still be making trips into the office though, even if the main reason is to get a good lunch with co-workers.
Favourite project you've worked on?
The Scottish Employability Tracking System we worked on for the Scottish Government has to be the best project I've worked on. It's one of the biggest projects I've been involved in from the design at the very beginning. It's also the first large project I took a lead-developer role in. One of the highlights was being based at the Scottish Government building and being able to talk through the design of the project with the client daily.
What do you enjoy doing when you're not working?
I'm a big board game and D&D fan so I'm constantly convincing family and friends to try whatever new game I've just discovered or plotting some fantasy adventure to run with friends.
Something on your bucket list?
I'd love to go to the Universal and Disney parks in Florida, it's the only sort of holiday I've never done before.