This month in our Meet the Team series, we're talking to one of our graduates Kirstin Bloomer. Kirstin is a Graduate Software Engineer on the trevi water team working on the trevi billing and trevi forecasting products. We find out more about her role and what she enjoys the most about being part of the Bridgeall team.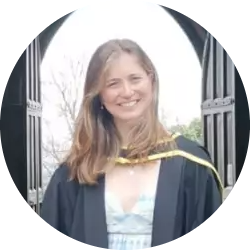 When did you join Bridgeall?

 
I joined in July 2022.
What is your role?

 
I am a Graduate Software Engineer working within the trevi team working on the trevi billing and trevi forecasting products.  This entails performing software development activities such as adding new features to these products, object-orientated design and analysis, front end graphical user interface design, testing, quality assurance and documenting the functionality of new software.   
What did you study?
My Undergraduate degree was in Biochemistry and Genetics, and more recently, I completed a Master's in Biomedical Sciences which involved analysing large amounts of gene expression data during different developmental stages of the malaria parasite.  Quite different from the usual software engineer route, but here I am! 
What were you doing before you joined Bridgeall and what attracted you to the company?

 
I was working at the Lighthouse Laboratory at the Queen Elizabeth University Hospital where I was processing COVID-19 tests.  This involved preparing samples collected from the public, inactivating the potentially live viral material and performing PCR.   
I was attracted to the company as I knew working here would give me the opportunity to challenge myself personally and professionally, improve my coding and computational skills exponentially, enter the corporate world, and would give me the opportunity to technologically transform businesses ensuring they remain competitive and effective.  
What do you enjoy most about your work?

 
Firstly, the Bridgeall community make working very enjoyable as they are open, friendly, and always eager to help, and to make you feel as welcome and comfortable as possible.   
I also enjoy working with my team of highly experienced software developers and domain experts, from whom I can learn professionally and solve problems with, with the goal of maintaining and creating innovative features to enhance user experience and functionality.  Additionally, the exchange of knowledge across teams with different domain knowledge, diverse backgrounds and experience makes working for Bridgeall such an enriching place of work.   
Highlight of your time here so far/What do you enjoy about working at Bridgeall?

 
What I enjoy most about working at Bridgeall is the social aspect of work – coming into the office each day, chatting to people, learning from others, as well as the informal lunch runs. ? 
What do you enjoy doing when you're not working?
My ideal day when off from work would be an active morning filled with either a run, hike or cycle with friends, followed by a wholesome Scottish brunch and a chilled afternoon/evening chilling with friends, reading or listening to music.  I also love exploring the Scottish countryside and isles. 
Advice to applicants
Be yourself. Let your enthusiasm and eagerness for learning and growth shine through! 
We are always interested to hear from talented individuals who would like to join our team. If you wish to be considered for any future positions, please send your CV and cover letter to careers@bridgeall.com