There were many exciting announcements to come from the Microsoft Ignite conference, and one of them was the introduction of Microsoft Loop.  
Microsoft Loop is the new branding for Microsoft's Fluid work, blocks of collaborative Office content that can live independently and be copied, pasted, and shared with others. Loop allows users and teams to collect everything needed for a project – files, links and data from other apps – into a single workspace, then provide a bird's eye view of everything happening with a project.
About Microsoft Loop
Microsoft Loop has three main elements: Loop components, Loop pages, and Loop workspaces. Loop components are live pieces of content that can exist across multiple apps, updated in real time and free for anyone to jump into. Loop components can be as simple as lists, tables, notes, tasks, or as sophisticated as a customer sales opportunity from Microsoft Dynamics 365, and because components stay in sync, no matter how many places they live in, you and your team always work with the latest information.   
These components can also exist in the main Microsoft Loop hub, inside what Microsoft calls shared Loop workspaces. Workspaces make it easy for you to catch up on what everyone is working on, react to others' ideas, or track progress toward shared goals. Teams can collaborate synchronously or asynchronously whenever inspiration strikes.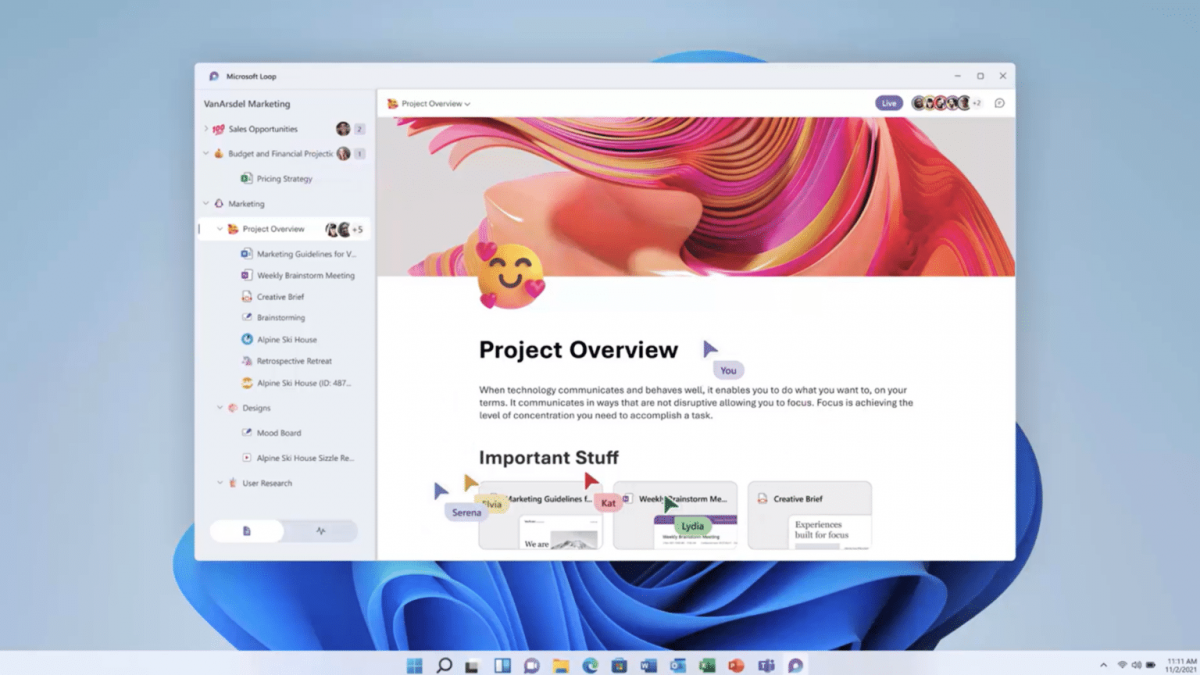 Loop pages are individual canvases where people can share and collaborate on Loop components. Think of it as a whiteboard but far more powerful because you can insert and share components that people have created outside of Loop. Even if you aren't part of the entire Loop page, the individual components can still be edited in real time from other apps.
A clear response to the shift to hybrid working, these collaborative Loop components have been in the making for Microsoft for the past couple of years. 
While Microsoft has been talking about Loop (Fluid) for a while now, it's still not something that's inside Office apps yet. Microsoft Loop components will arrive in Teams, Outlook, and OneNote this month, and the main Microsoft Loop app will be released at a later date. "We will share more about the availability of the Microsoft Loop app in the upcoming months," says Wangui McKelvey, general manager of Microsoft 365.
If you'd like more information about Microsoft Loop or would like to know how to improve collaboration in your organisation, contact our team of experts who can help.