A suite of analytics tools, Power BI takes business intelligence to the next level. With Power BI you can easily connect your data sources, visualise and discover what's important and share the data with anyone in your organisation. There is so much you do with Power BI, but can you make decisions from Power BI dashboards without confidence in the accuracy of the data? Many organisations struggle with getting their Power BI environment in order which is why governance is so important. 
Power BI governance provides a formal framework on how Power BI is used in your organisation. It also aligns Power BI to the overall IT and business strategy of the business. The main goals of governance are to ensure planning, Power BI usability, your data integrity and data security. In this article we highlight some of these goals and how you can get started.
Defining a governance strategy
When considering data governance in any organisation, the best place to start is by defining a governance strategy. By focusing first on the strategic goals for data governance, all detailed decisions when implementing governance policies and processes can be informed by the strategy. In turn, the governance strategy will be defined by the organisation's data culture.
These governance decisions are implemented with documented guidance, policies, and processes. It's important to note that a well-executed data governance strategy makes it easier for more users to work with data. When governance is approached from the perspective of user empowerment, users are more likely to follow the documented processes. Accordingly, the users become a trusted partner too. You may want to keep some of the following questions in mind:  
If a report or dashboard becomes business critical, what do you do to ensure quality?

 

Do you have a testing and review process, to ensure data is accurate?

 

What training do you offer employees?

 
What is involved in Power BI governance
While all organisations have different ways of tackling governance here are just some of the key tasks you should be relating to your governance goals. 
Planning
Firstly, your organisation needs to scope out the requirements for your Power BI roll out. This can include anything from the functionalities needed, to the current number of users/ how many users you expect there to be further down the line. To help with planning the Power BI roadmap provided by Microsoft can really help when getting all the stages in order. Who will get access to Power BI? What data connectors will you allow in your organisation?  
We also recommend looking into the Power Platform Centre of Excellence (CoE) model. This can be a powerful way for an organisation to align around business goals rather than individual department metrics. 
What is a Power Platform Centre of Excellence?

 
A Microsoft Power Platform Centre of Excellence (CoE), is a team, or governance program that is responsible for nurturing the growth of the platform in their organisation, while applying the right administrative boundaries and governance. When designing a Power Platform Centre of Excellence, it's important to capture the governance principles that are important to your organisation and create a reference framework to base all decisions on. The Power Platform Centre of Excellence should be responsible for managing a range of things including:  
Application audit process

 

Managing application ownership

 

Provide best practice and training

 

Manage the connectors and data available to users

 
The CoE starter kit
While this can seem like a minefield, you don't have to start from scratch. Consider downloading the Power Platform Centre of Excellence (CoE) Starter Kit. A collection of free templated best practices, designed with administration and governance in mind.
Power BI usability
You need to ensure your team are clued up when it comes to using Power BI so that there is a consistent level of understanding across the organisation.  
Understanding your different user types from fully trained BI consultants to super users across departments and internal end users. Each user type will require a different level of governance and training to ensure quality. For example, End users should be given appropriate training and shown good practices for reports, naming conventions and deployment processes, to get you off to a good start.
Integrity of your data
Evaluate your data pipeline and figure out where Power BI fits in amongst your processes. It's important to be transparent when it comes to what reports and data sources are available to your team.  
What are your most valuable and most accurate data sources? Do you have a data warehouse? In Power BI you can create data sets that people can use, rather than letting users connect to anything and decide themselves. Doing something like this upfront will ensure only the correct data is used in your Power BI reports.
Data security
Data protection capabilities in Power BI build on Microsoft's strengths in security and enable customers to empower every user with Power BI and better protect their data no matter how or where it is accessed.  
You may want to look at data source access control and row level security (RLS) which can be used to restrict data access for given users. There are also other levels of security available like Office 365 sensitivity labels. You can add a sensitivity label on a Power BI report as soon as the admin configures labels and policies, for example, sensitivity labels can restrict the distribution capability in Power BI reports. 
When you have these components in place, you should then decide who can access reports and create workspaces. Creating communication channels among users and admins is a great way to keep everyone on the same page. 
How to get started
Next steps on how to get started are very much dependent on where you are in your Power BI journey. There are three primary timing methods organisations take when introducing Power BI governance to an organisation are: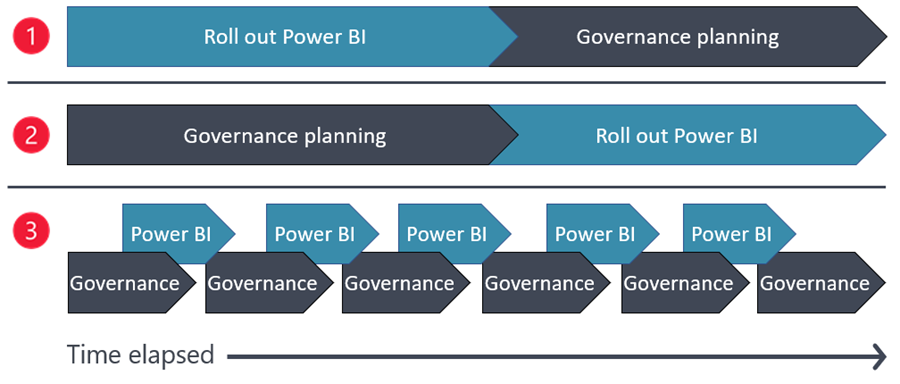 Roll out Power BI first, then introduce governance:

Power BI is made widely available to users in the organisation as a new self-service BI tool. Then, at some time in the future, a governance effort begins. This method prioritises agility.

 

Full governance planning first, then roll out Power BI:

Extensive governance planning occurs prior to permitting users to begin using Power BI. This method prioritises control and stability.

 

Iterative governance planning with rollouts of Power BI in stages

: Just enough governance planning occurs initially. Then Power BI is iteratively rolled out in stages to individual teams while iterative governance enhancements occur. This method equally prioritises agility and governance.

 
Choose Method 1 when Power BI is already used for self-service scenarios, and you are ready to start working in a more efficient manner. 
Choose Method 2 when your organisation already has a well-established approach to governance that can be readily expanded to include Power BI. 
Choose Method 3 when you want to provide the greatest degree of flexibility and agility. This balanced approach is the best choice for most organizations and most scenarios.
There are numerous Microsoft resources available to help you on your journey to good Power BI governance. The Power BI blog is another great resource to know the most up to date information. If you need more help on Power BI and governance? Get in touch with our team or download our Power Bi guide below.