Microsoft Power Platform has become a top skill in the Microsoft ecosystem: it is now regarded as an essential tool for building Microsoft Cloud-based solutions. 
Power Platform is Microsoft's low-code platform for citizen developers. It is designed to be used by a wider range of people. Ensuring you have the skills inhouse to take advantage of this platform can be a key success factor. We've worked with many clients on helping them with their Power Platform training strategies here are some of our top tips on getting you set up for success.
Focus on your people
When it comes to formulating your Power Platform training strategy it is important to focus on why. Make sure employees know why the change is happening, what's in it for them, and why they're being asked to change. What are the benefits of the new approach and how will the technology benefit their role and the wider business. Making it real for people and taking them on a journey with you is key.  
Use real work scenarios – Use tasks or business processes that are familiar to your audience to draw them into learning how to use the technology. 

 

Use multiple formats – Training end users should take on multiple forms to accommodate different learning styles, geographical barriers, and resource constraints. 

 

Reinforce – Make the training stick with reinforcement options such as on-demand training, lunch & learn sessions, and new employee training options.

 
Microsoft Power Platform in a day workshops
Microsoft has created Power Platform in a day training courses. This is great for team members, whatever their role, who want to extend their skills to learn how to create apps with Power Apps, chatbots with Power Virtual Agents or desktop flows with Power Automate.  These courses are generally ran by Microsoft partners for a cost but can quickly get your people up and running with Power Platform. 
Once you have people in your team who have attended one of the in-person or virtual events, you could adapt the course materials to align with your organisation and run them internally.   
Remember, everyone in your organisation is an expert in something. Teaching them to build Power Apps helps them harness their skills into solutions that benefit the organisation.
Build capability through varying methods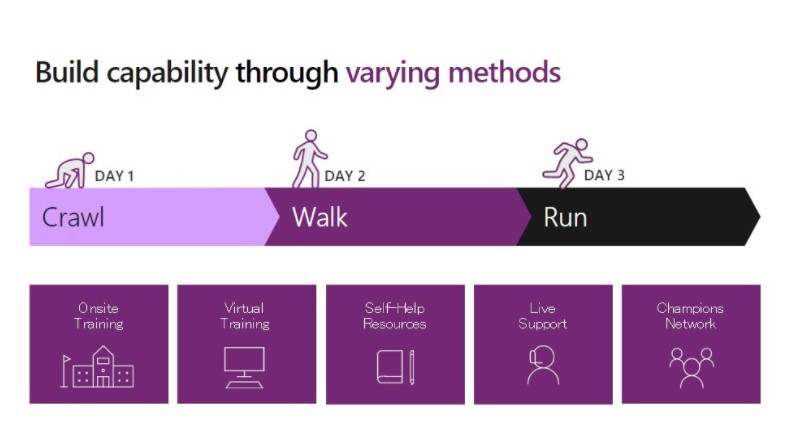 There are several learning paths provided by Microsoft that you can use to get you on your way. Here are just some resources that are available for your Power Platform journey.  
Crawl stage  
Walk stage  
Run stage 
Align your training strategy throughout the process
It's important to think about your upskilling strategy for users —what will be available for new, intermediate, and advanced users to ensure they are able to learn constantly and can get powered up. 
Many training resources are available, from training days to online resources such as forums, documentation, and e-learning. Community events such as user groups, conferences, and happy hours help makers connect and share ideas outside your organisation with like-minded people.

Get certified
Whether you're just starting or an experienced professional, the hands-on courses and learning paths available on Microsoft Learn help you arrive at your goals faster, with more confidence and at your own pace. You can earn certifications to advance your career and show how you are keeping pace with today's technical requirements.
There are several ways you can equip your team to ensure that you adopt the Power Platform in the easiest way possible. If you need more information on the benefits of the Power Platform for your organisation contact our team of experts who can help.