As more organisations continue to transform digitally, issues of security and compliance also become more complex. Safeguarding people and the tools/devices they use to stay connected, get work done, and thrive in today's hybrid environment is critical. 
Earlier in November at the Ignite conference, Microsoft announced some new security, compliance and administration/management capabilities in SharePoint, OneDrive, and Teams. We go through just some of the changes you can expect.
Control default sharing link types with sensitivity labels – General Availability
In the Spring Ignite 21 announcement, Microsoft announced Information Protection (MIP) labels-based external sharing policies. That support is now being extended to simplify default sharing experience for internal and external collaboration. Microsoft have announced general availability of sensitivity labels-based default sharing link type for SharePoint sites.
For example, if a team or site is labelled as Confidential, then you could configure the default sharing link type to be "Specific People" and ensure users are selecting specific users to collaborate with instead of selecting broader audience. On the other hand, if a team or site is labelled as General, then you could configure the default sharing link type to be "Anyone link" and allow open collaboration in that team or site. 
You can learn more about this feature here.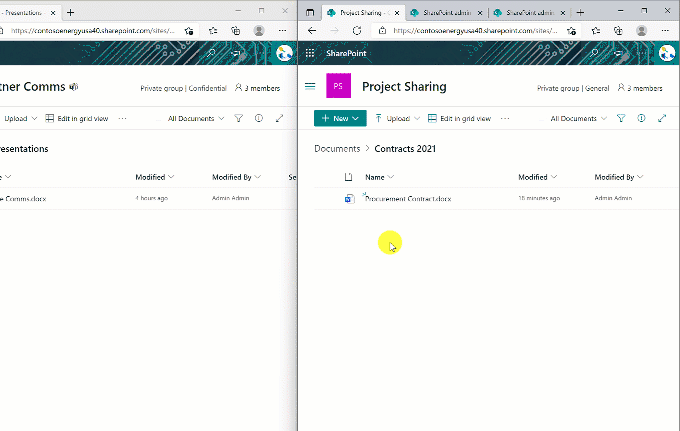 Auto labelling enhancements for Office documents in SharePoint and OneDrive – General Availability
Last year Microsoft announced the auto labelling capability that empowers administrators to create rules to detect sensitive files in their corpus and then automatically label them, targeting specific SharePoint Sites or OneDrive accounts. For example, if a file contains 10 credit card numbers, then label it as Confidential.
But now auto labelling capability is going further. Auto labelling is being enhanced to enable administrators to create auto labelling policies targeting all OneDrive accounts and SharePoint Sites within their organisation. This includes files that are being created or uploaded through Teams. This is a big step forward in the lens of scale, ease of use for administrators, and most importantly completeness i.e., detecting your sensitive documents no matter where it resides in Microsoft 365.
The simulation experience has also been improved to be more predictable and intuitive. For example, you will be able to create an auto labelling policy and get a simulation result in a few hours with sample files that match the policy, instead of waiting for a complete list of files that meet the policy criteria.
To learn more about these enhancements, you can read here.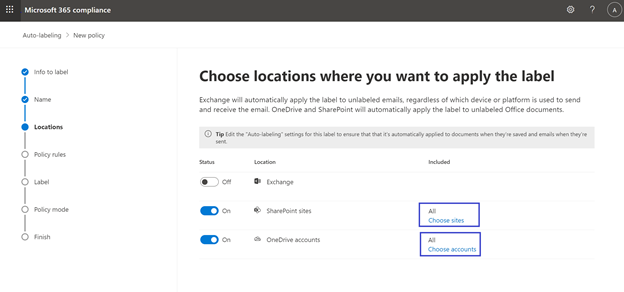 SharePoint Syntex support for Sensitivity Labels – General Availability
SharePoint Syntex uses advanced AI and machine teaching to amplify human expertise, automate content processing, and transform content into knowledge. Now, it also can detect sensitive content and automatically label the content to protect it from unauthorised access by applying labels-based policies such as encryption.
Microsoft announced SharePoint Syntex support for Sensitivity Labels is now Generally Available. When you create a Syntex model, you can now pick the appropriate sensitivity label that your organisation has published to you to auto label the documents and protect with the appropriate security policies. 
For example, for Tax Forms content as the content gets automatically processed and extracted by Syntex the documents deemed as Tax Forms are labelled as Confidential. The encryption policy associated with this Confidential label will protect these Tax Forms documents. 
For more details on this feature, learn more here.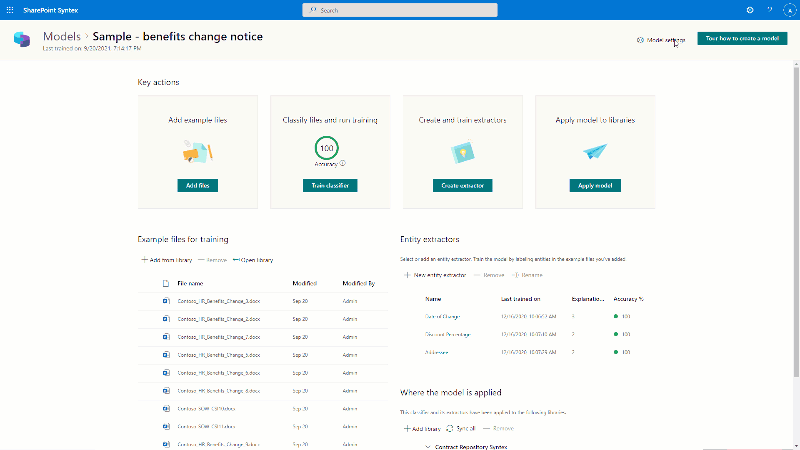 Data access governance in SharePoint and OneDrive – Public Preview
Using sensitivity labels, you can classify all your digital assets in SharePoint, OneDrive, and Teams, however, you may wonder how to ensure the right labels and security policies are set for the sites that matter the most in your organisation. As external collaboration becomes a norm in your organization, you may wonder how to avoid oversharing or accidental sharing of sensitive sites. Look no further, admins can now use data access governance insights dashboard in SharePoint admin centre to monitor the external sharing activities and label/policy settings for the sites that matter the most. 
In last year's Ignite, Microsoft introduced this roadmap feature. Now the data access governance feature is in public preview. These insights allow you to: a) discover your top sites, the sites with the greatest number of sensitive documents or with most content shared using anyone links or company sharable links, b) validate they have appropriate sensitivity labels and access policies for your security posture, and c) tailor the labels and policies as needed. 
Interested in learning more? Check out the product article here.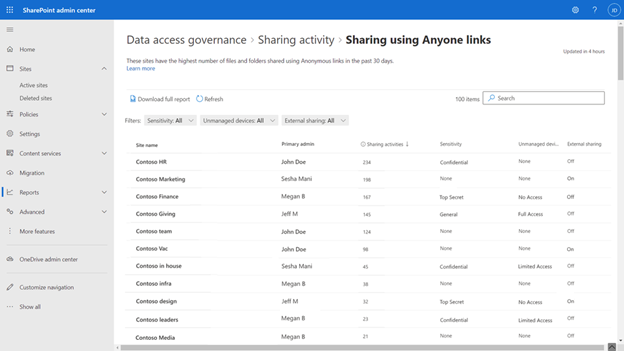 To learn more about SharePoint and how it could benefit your business, speak to our team of experts who can help or download our complete guide to Sharepoint below.