The smartcrowds team in Bridgeall is often asked by customers and prospective new clients if and how smartcrowds and Microsoft Teams can co-exist.
With more and more organisations embracing Teams as the de-facto hybrid working collaboration platform, it's no surprise that both business and IT leaders want to make sure that they get the most out of their organisational investment in the platform when selecting new technology solutions.
The great news is that with the move to more pervasive use of cloud web-apps and the general retirement of older style Windows or Mac native business apps, one of the simplest and often overlooked features of Microsoft Teams makes it easy to incorporate your key line-of-business IT solutions into your employees' day-to-day user experience.
In this blog, we'll use our own smartcrowds web-app to show you how easy it is to get more out of Teams, without lots of complex and costly changes.
Building Empowered, Productive Communities
smartcrowds (www.smartcrowds.com) is an employee listening and empowerment platform that helps business leaders:
Find out from employees where the organisation's key pressure points and opportunities lie;
Understand in detail why this is the case;
Set out what the business will do to act on that information;
Crowdsource ideas on how to solve the challenges that have been identified; and,
Turn the most promising ideas into improvements and new products & services.
Like Teams, smartcrowds centres around communities of people (we call them "Crowds", rather than Microsoft's "Teams") who regularly operate in the same business area (including cross functional areas) for the betterment of the organisation.
Being a modern responsive web application (like most modern business solutions), all of the features of smartcrowds are accessible via a set of secure URLs – meaning that many of its key functions can benefit from one of the most simple but effective features of MS-Teams: Websites.
From Teams to Channels to Websites
Most people who are getting used to MS-Teams will know that every Team is "served" by one or more Channels.  Generally, Channels are used to group content or functions of a similar type together, within a Team.
For example, the 'All Company' Team in your own organisation's MS-Teams configuration might have the following Channels:
Health & Safety
Your Ideas
Social
Whereas the 'Software Development' Team (in a company like Bridgeall) might have the following Channels.
Platforms, Tools & Standards
Testing
Projects
MS-Teams makes it easy to bring your Channels alive and make them much more useful by associating them with one or more Websites – which handily brings your own line-of-business web-apps into play. Let's take a quick look at how this works.
In this example we're using our own smartcrowds Team within Bridgeall's own MS-Teams configuration.  You can see below some of the Channels that the smartcrowds team within Bridgeall use to collaborate together.
Some of these Channels focus on discussion and associated content, but others (for example Team IDEAS and Team PULSE) use the MS-Teams Website feature to add functionality and productivity to the Channel.

We've highlighted the Team IDEAS Channel above as an example.
On the right-hand pane at the top, we see a number of referenced "websites", which are simply URLs to parts of the smartcrowds web-app that are appropriate for the smartcrowds team.  These are repeated on tiles on the bottom pane, with appropriate call to action text.
With a quick tap of the Team Challenges link from the top menu, or the Add an Idea to a Challenge tile on the bottom pane, members of the smartcrowds team are taken into the smartcrowds web-app, pre-filtered with Idea Challenges that are appropriate to the smartcrowds team alone creating an effective way to bring the smartcrowds application into the day-to-day workflow of employees who spend most of their collaboration time in and around the MS-Teams platform.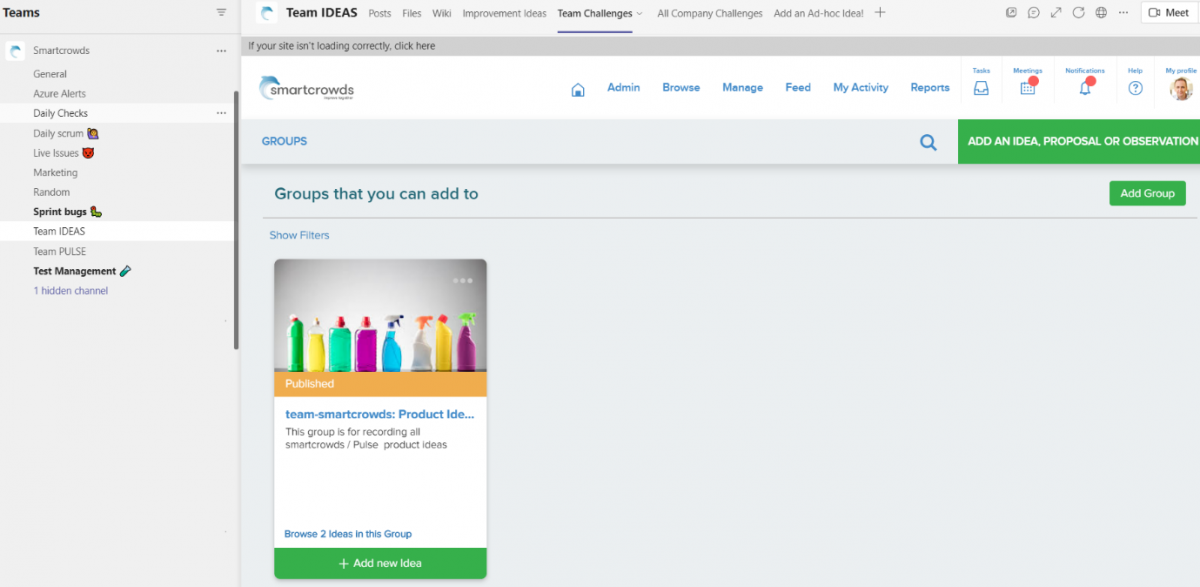 Adding a Website
So, this seems like an obvious thing to do, right?  The even better news is that it is simple to set up (well even I can do it, so it must be pretty easy?)
Simply choose your Channel and tap the large + option in the Channel header, highlighted below.

You'll see some options like these: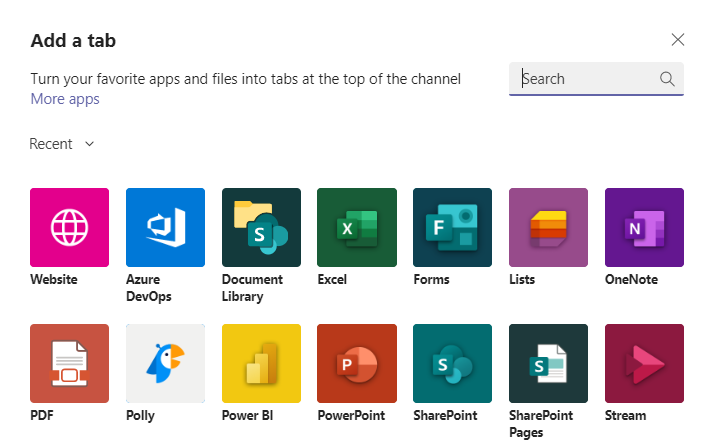 Choose the Website option, and you'll be asked to complete the following: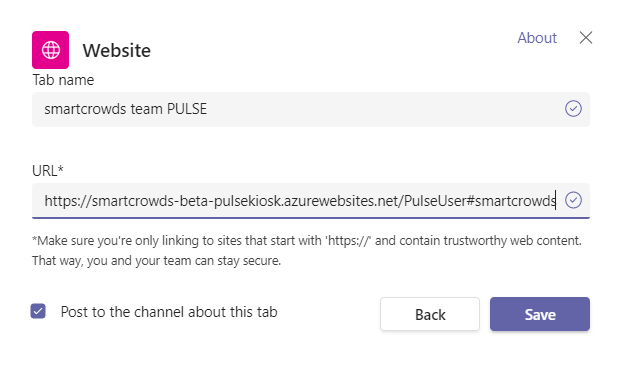 Give your website a name, and copy & paste the URL for the web-app that you want to use (having navigated to the page that is appropriate for this Team using any application filters as appropriate), and Voila! – with a few clicks you've brought a line-of-business application into your MS-Teams environment, presenting a function from that application that is appropriate to the audience of this Team.
Here, we've added the smartcrowds PULSE web-app to the smartcrowds Team PULSE Channel, making it easy for everyone in the smartcrowds team to record each day how well their workplace environment is contributing to a productive working environment – all without having to leave their favourite hybrid collaboration environment!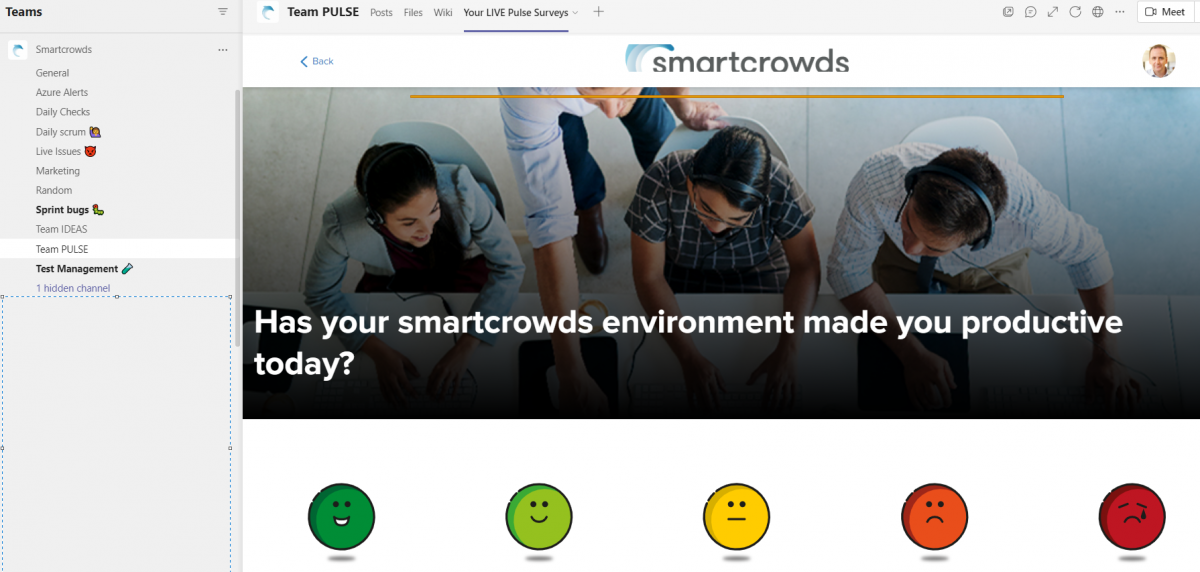 If you'd like to find out more about getting the most of Microsoft Teams, contact our team.
If your interested in how Bridgeall's smartcrowds platform can help you empower your employees to make more, faster and better change happen, contact us at contact@smartcrowds.com