The need to create great employee experiences should be a key priority for any business. The challenges keep coming, and Microsoft has now stepped up with a new solution, Microsoft Viva. 
Microsoft Viva is the first employee experience platform and ecosystem built for the digital era. It combines video conferencing and learning programs with work-life balance tools to prevent burnout. Plus, enables teams to feel more connected and helps managers understand employee work patterns and trends. Split into four modules: Connections, Insights, Learning and Topics, Viva is geared towards making teamwork better.   
We think the timing of this launch couldn't be better, and here are what we consider the top 5 benefits of Microsoft Viva.
A much needed solution
The quest for improving employee experience is nothing new. For years organisations have been searching for ways to: 
Provid

e

 

better 

working experiences

 

Maintain

 

momentum and productivity 

 

Avoid employee burnout

 

Impro

ve

 the onboarding process

 

Find

 

better ways to collaborate and knowledge share

 
These issues are complex and often require more than one platform or technology to solve. Plus, due to the onset of the Covid-19 pandemic, organisations are now wondering how to navigate the new normal. How will we promote the ongoing well-being of our staff? What can we do to get the work-life balance right now that remote working is here to stay?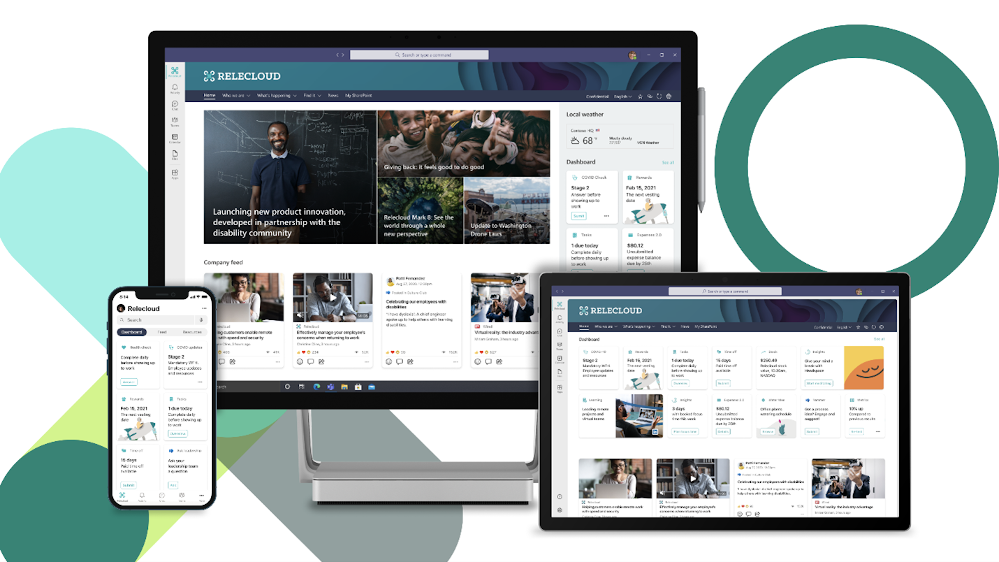 Meeting the technology needs of employees was the first hurdle, but now the focus is shifting to effectively managing and supporting those employees no matter where they work. Normally this would require investing in multiple technologies and services, but Microsoft Viva has the potential to reduce multiple technology decisions to one.
Bringing tools for employee engagement, learning, wellbeing and knowledge discovery directly into the Microsoft 365 apps your staff work with every day. Viva is embedded across the Microsoft 365 suite and is integrated with Microsoft Teams and SharePoint. 
Obtain meaningful insights from Microsoft Viva
You have the employees engaged, what about the employers?  To engage with staff, you need data. Data is extremely powerful, especially when you know how to use it. The Microsoft Viva platform can provide valuable insights that can help users make informed and meaningful decisions. By having access to this data, you can identify whether or not your people are coping well and performing at their best.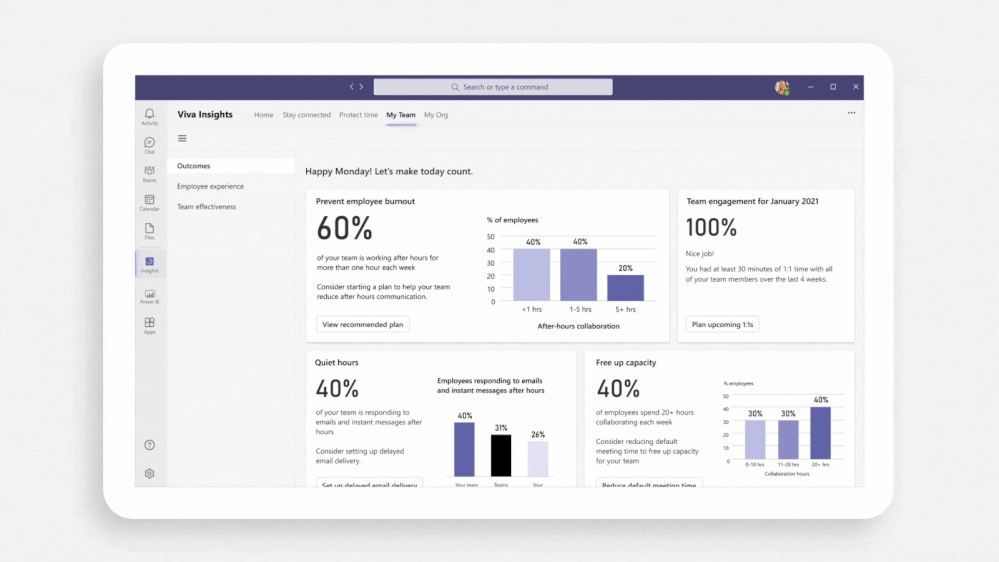 Drive future business decisions
Microsoft Viva is just the start of what could be a game-changing movement. With the Insights module for example, individuals and leaders can obtain personalised and actionable insights to help them and their teams to be their best at work. In the coming months, Microsoft have also shared their plans for additional 'personal wellbeing experiences' in Insights. These include a virtual commute feature, and an integration with health and happiness app Headspace for meditation and mindfulness. We think the platform could be used to inform future decisions such as:
Salary reviews/employee bonuses could be determined by the data on the platform 

 

Onboarding to certain projects could depend on employee experience scores

 

Other applications may lend into it. Similar to how collaboration apps have 

merged

 into Microsoft Teams

 
Easily accessible
Most businesses use Microsoft/Office 365 and having an employee engagement platform within this technology suite will make it easily accessible to most organisations. Microsoft Viva is fully integrated/built on top of Microsoft Teams and SharePoint. Although worth noting it's likely an additional license will be required to access it. 
Share knowledge

with

in your 

organisation
The Viva Topics module uses AI to provide relevant information on different subjects without the need for searching or switching between apps. Viva Topics is a great way to connect with individuals and knowledge experts in their organisation, improving productivity and collaboration across an organisation's teams. It also helps reduce barriers for new starts and facilitates knowledge sharing.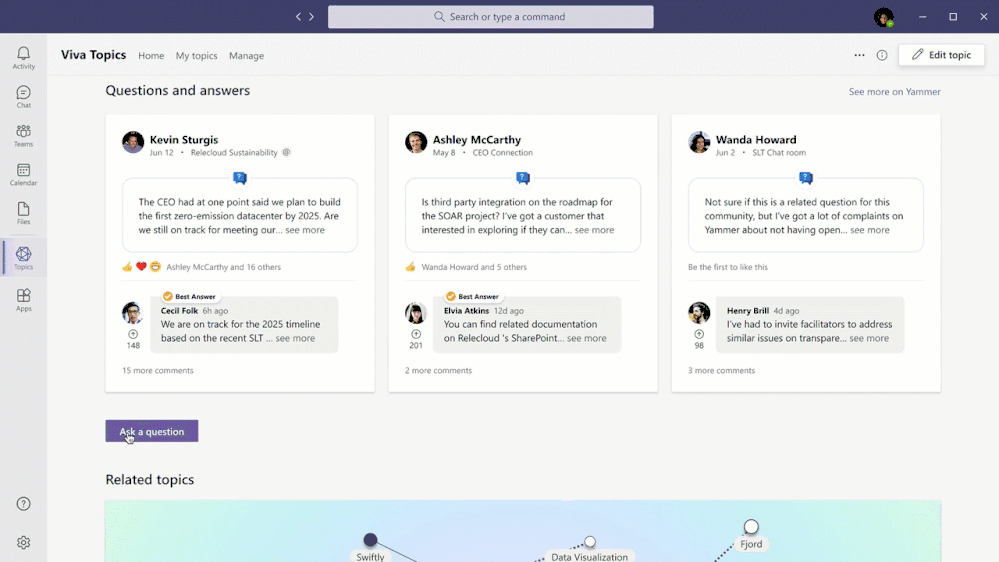 We're all aware how businesses invest in their people is vital to an organisation's success. We feel that with all these possibilities, Microsoft Viva could define how that is done in the next few years.  
Interested and want to find out more about Microsoft Viva? Contact our team here.