The Microsoft Power Platform is Microsoft's low code platform that allows non-developers to analyse data, automate processes and build applications. Microsoft is continuing to enhance the breadth and depth of this capability and the latest addition is called Microsoft Power Pages. We explain more in this blog. 
What is Microsoft Power Pages?
Microsoft Power Pages is a secure, enterprise-grade, low-code software as a service (SaaS) platform for creating, hosting, and administering modern external-facing business websites. Whether you're a low-code maker or a professional developer, Power Pages enables you to rapidly design, configure, and publish websites that seamlessly work across web browsers and devices.
Ultimately Power Pages is an evolution of the Power Apps portals capability that has been around for a while.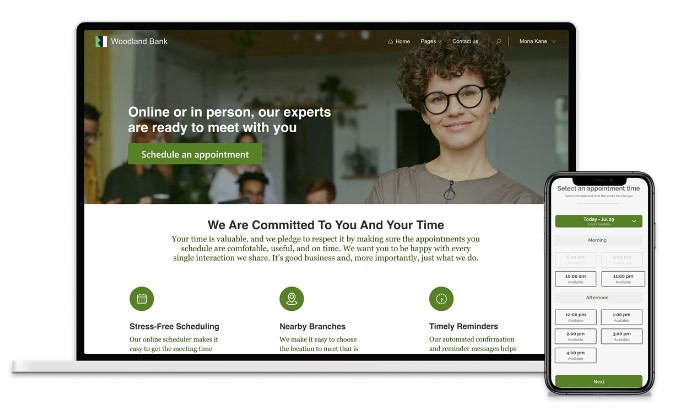 Power Pages provides you with rich, customisable templates, a fluid visual experience through a reimagined design studio, and a new, integrated learning hub to quickly build sites that suit your unique business needs.
Power Pages is the newest member of the Microsoft Power Platform family. With Power Pages, you can build sites by using the same shared business data stored in  Microsoft Dataverse that you use for building apps, workflows, intelligent virtual agents, reports, and analytics with other Microsoft Power Platform components in your organisation.
What can Power Pages do?
You can quickly create and design professional and secure sites for your business with Power Pages. This article provides an overview of key Power Pages capabilities.
New design studio – one of the biggest steps forward with Power Pages. A simple low code interface that allows you to easily create webpages, themes and databases all without code.

 

Fully responsive websites – all websites built on Power Pages are fully responsive, working seamlessly on mobile.

 

Simplified authoring experience for makers – Power Pages comes with a range of templates and industry examples to help simplify and speed up the making of pages.

 

Advanced development capability for pro developers – Power Pages are designed with non-developers in mind but like all Power Platform solutions allow coding and custom development within the platform

 

Security and governance – Microsoft allow a range of authentication methods for users of the websites. Also, Power Pages is built on top of Microsoft technology solutions taking advantage of the existing security standards and features available

 

Fully integrated with wider Microsoft Power Platform solutions – From fully integrated data with Dataverse to Power Automate workflows following actions on your site. The full suite of Power Platform provides a great digital platform for organisations.
Power Pages and Power Apps Portals
Power Pages is an evolution of Power Apps portals. It's built on the Power Apps portals platform used by thousands of customers today. It combines this platform with new no-code/low-code capabilities and experiences to empower more people to create and deliver business-centric, data-powered, modern, and secure websites.
Power Pages is a superset of Power Apps portals. Current customers of Power Apps portals don't need to upgrade or migrate their running portals. Customers and partners who are building solutions on top of Power Apps portals shouldn't stop or cancel their projects. Along with the extensible data model and pro developer customisation experiences of Power Apps portals, Power Pages adds new low-code experiences and out-of-the-box solution templates.
Power Pages is in preview just now but will likely be generally available later in the year. If you would like to explore Power Pages for your organisation then please get in touch.