Microsoft Viva is an employee experience platform that brings together communications, knowledge, learning, resources, and insights. Powered by Microsoft 365 and experienced primarily through Microsoft Teams, Viva fosters a culture where people and teams are empowered to be their best from anywhere. In this article we give you a brief overview of Microsoft Viva Connections and what to expect from the solution.
Introduction to Viva Connections
Microsoft Viva is split into four modules: Connections, Insights, Learning, and Topics, each is geared at making teamwork better. Viva Connections is a gateway to a modern engagement experience designed to keep everyone engaged and informed.
What

is

Viva Connections?
Viva Connections is all about ensuring your employees stay engaged with your company. It has been described by Microsoft as the 'gateway to a modern employee experience.' Designed with the modern world of work in mind, it allows employees to stay informed no matter where they are working.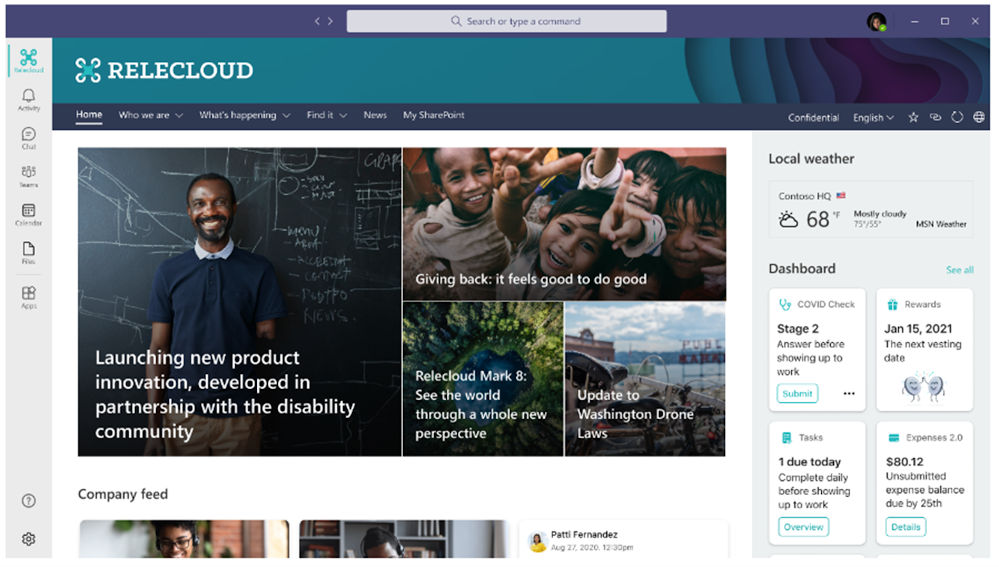 Available through Microsoft Teams, Connections is personalised to your organisation and tailored to each person. Powered by SharePoint, it gives people a curated, company-branded experience on a custom feed of news, announcements and conversations. The personalised dashboard connects individuals to company tools and resources across the digital workplace, keeping everyone in the company engaged. 
Who is Viva Connections for?
Leaders – Leaders/managers can reach everyone in the organisation, anywhere. Viva connections allows you to bolster a strong connection with employees, transform your company culture and make it inclusive, and empower your people to succeed.

 

Employees – Employees can stay connected and engaged with everyone in your company. Your team can easily discover information and tools you need, participate in conversations, and share your unique perspectives and expertise.

IT –

Deliver a seamless experience by creating a rich, personalised employee experience, all in one place. Deploy on your existing apps and infrastructures with minimal time and effort.

 
Viva Connections pricing
Currently you can start using the module at no cost if your users are licensed for Microsoft 365 and SharePoint. 
Viva Connections notable dates
Viva Connections is generally available. Additional features will roll out over the course of 2022. 
If you want to learn more about Microsoft Viva, you can download our complete guide below which explains more about Viva and how it can benefit your business. You can also speak to a member of our team who can help.