This month in our Meet the Team series, we're talking to Kevin Meakin. Kevin is a Software Engineer on the .NET team here at Bridgeall. We find out more about his role and what he enjoys the most about being part of the Bridgeall team.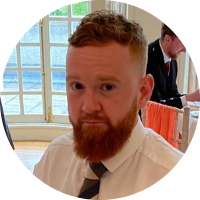 Tell us more about your role and what it involves?
I'm a software engineer, I work on the .NET team to build custom applications for clients as well as supporting applications we have made before. 
How long have you been working at Bridgeall?
I've been here for 8 years now.
What do you like most about your job?
For me it would be the variety of projects. I can work on several different projects over a year each with their own unique challenges and slightly different technology.
What does a typical day for you look like?
It depends what the project I am on, usually it would be a scrum or catchup in the morning to go over progress of tasks and then spend the rest of the day working through my tasks. For most projects this means doing full stack .NET development using .NET core for backend code and HTML/Javascript for the front end. I have also worked on Data analysis projects using Azure tools and Power BI to visualise the data.
What is your background?

I have always been interested in technology and went to college to learn computing. There I really enjoyed the software development aspect of the course so went to University to study it.
What certifications do you have?
I did my "AZ-204 – Developing solutions for Microsoft Azure" and "AZ-400 – Designing and Implementing Microsoft DevOps Solutions" certifications which were required for the DevOps exam. I'm pleased to say I recently passed and now have my DevOps Engineer Expert certification.
What is it like working at Bridgeall?
Good enough to keep me around for 8 years! It's a great environment and the people you work with are all really nice. 

How have you found moving to working from home?
I used to WFH twice a week before lockdown as it was something Bridgeall offered, so it was an easy transition from that perspective. I suspect like everyone I've missed the interaction you get from being in the office at times though.
Favourite project you've worked on?
Probably the EPC register when I first started with the company, it was a steep learning curve and I really enjoyed the challenge of learning the technologies and how it already worked.
What do you enjoy doing when you're not working?
Walking, reading, socialising, watching football and tv in general.
Something on your bucket list? 
I enjoy travelling and would like to go to Canada.