Many public sector organisations, with some notable exceptions, have been hesitant in migrating to the cloud. This may be about to change with evidence of a more forward thinking approach being adopted by central government.
In a recent tweet, Microsoft UK CEO Cindy Rose stated that more encouragement is now being given to public sector organisations to embrace Office 365 and the cloud to reduce reliance on PSN, the internal intranet service still used by many parts of the public sector.
This follows publication of two new Microsoft documents providing updated cloud security guidelines developed from the shared expertise and experience of NCSC (the National Cyber Security Centre), GDS (Government Digital Service) and Microsoft.
The documents cover how Office 365 adheres to the 14 cloud security principles mandated by NCSC and how the software's capabilities can be used to ensure that a common bar can be achieved for their Office 365 tenant.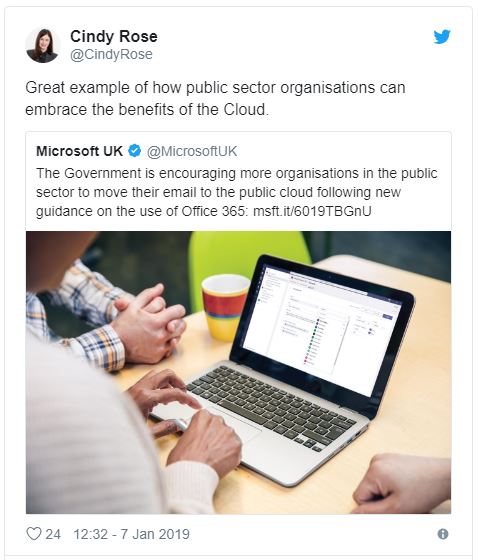 Hopefully, 2019 will be the year when UK public sector bodies start to leverage the full potential of Office 365 and the cloud for reducing costs, improving efficiency, becoming more agile, collaborative organisations 'fit-for-purpose' in a digital era.
The fact that vendors such as Microsoft have invested heavily in UK based data centres should remove any concerns about hosting data outside the country – Microsoft's new UK data centres will boost cloud adoption.
Full story here – Microsoft publishes guidance to boost public sector cloud security.
Please do not hesitate to contact us if you would like to discuss your cloud requirements. Our expert team will be happy to help.