Bridgeall is delighted to announce the launch of our updated smartPMO for Healthcare solution.
Developed in close collaboration with one of the UK's largest NHS Trusts, and utilising the collaboration and document sharing functionality of Office 365 and SharePoint, smartPMO provides a low-cost SaaS solution to the complex project portfolio management challenges facing busy NHS and private healthcare Project Management Offices.
Hosted in Azure Cloud, smartPMO delivers an efficient, effective and consistent approach to project portfolio management, governance and reporting at each stage of the project lifecycle, all from a single dashboard.
The integration of Power BI reporting provides senior management and project teams with real-time visual insight into the current status of all projects being managed at any one time.
Easy to set-up and leveraging the robust protection and reliability of Microsoft Azure, healthcare organisations using smartPMO report tangible business benefits, project efficiency savings and higher productivity.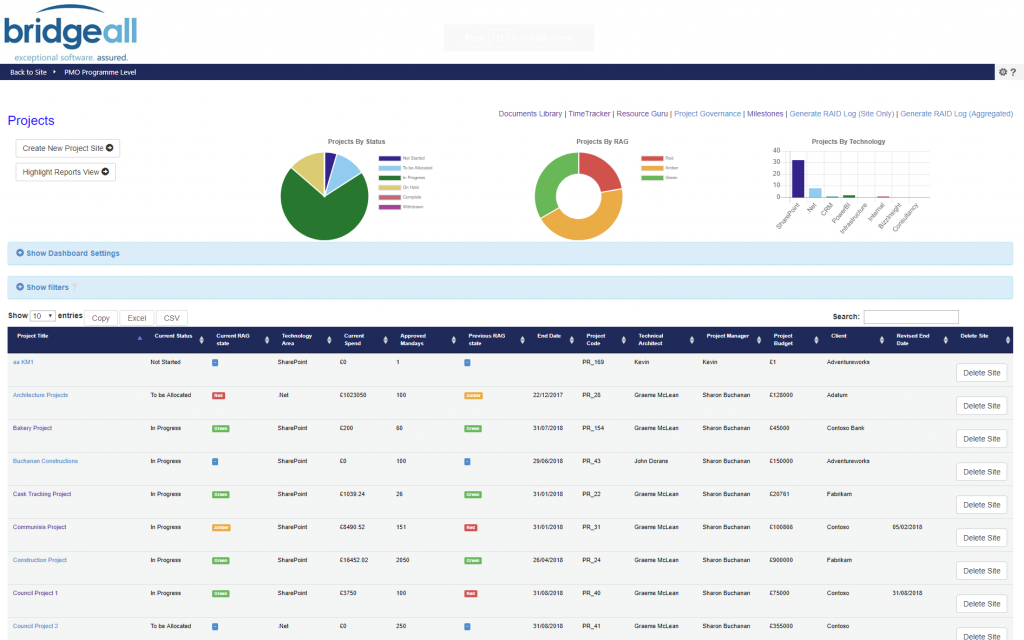 Denise Lyden, Manager Programme Management Office, Strategy and Programmes, NHS Greater Glasgow and Clyde states:
"Building on Bridgeall's extensive experience of delivering project success, working in close collaboration with the senior management team at NHSGGC, a solution was developed customised to meet the specific management challenges associated with our rapidly expanding project and programme portfolio. By reducing the staff effort required to produce project/programme status reports, smartPMO is already providing NHSGCC with significant efficiency savings and productivity improvements. The Bridgeall team are excellent to work with, spending a lot of time understanding our challenges and ideas for improvement, delivering timely solutions. Their customer service is excellent."
For more details, please see NHSGCC PMO case study.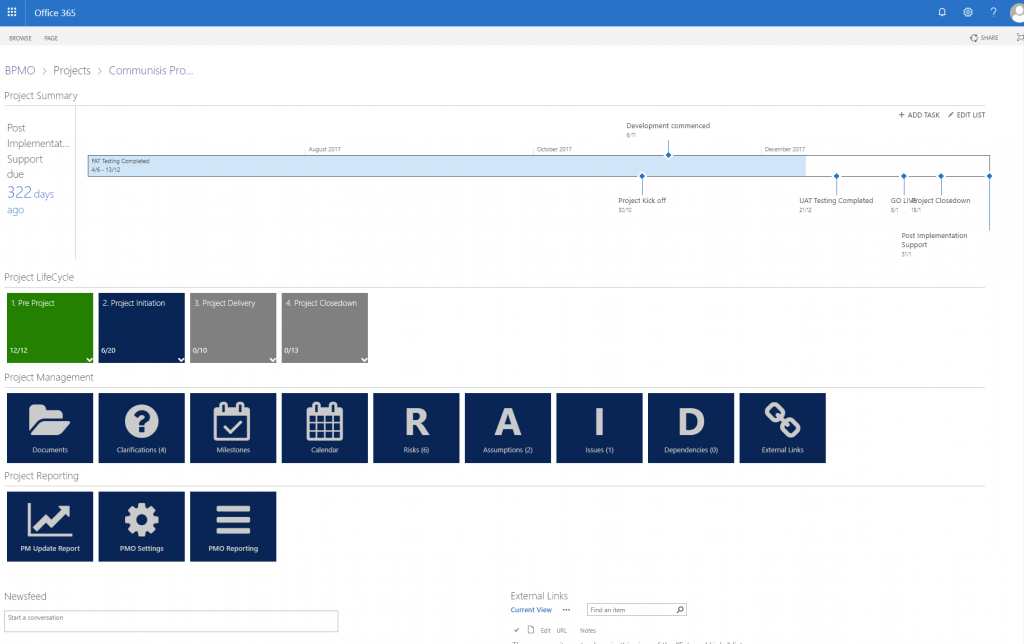 Sharon Buchanan, Senior Project Manager at Bridgeall Ltd states:
"It has been a privilege working with NHSGGC in migrating from their original, highly manual processes to a streamlined smart application. With smartPMO significantly reducing the staff effort required to produce project/programme status reports and budget updates, the internal project team were very keen to adopt the new solution as soon as possible, clearly understanding the massive benefits they would all derive from leveraging a single source of truth for project delivery. smartPMO has delivered massive benefits in productivity to the eHealth Directorate."
KEY FEATURES
A Single Real-Time Dashboard
Ensuring a single source of truth for all projects and programmes.
Consistent Project Tracking
100% reliable and consistent tracking of all projects including tasks, documentation and version control.
Power BI Reporting
Real-time Project Highlight Reports, Risks and Issue Logs at the touch of a button. Power BI reporting providing high level information for Project & Programme Planning and Review.
Collaborative Working
Between teams internally and externally.
Developed with and for Busy Healthcare PMOs
Developed in close collaboration with one of the UK's largest NHS Trusts.
KEY BENEFITS
An easy to use interface for managing project submissions, approvals and key tasks. 
A single dashboard for monitoring project plans, scheduling, risks, timescales, budget and KPIs.
A consistent, streamlined approach to efficient and effective project management, delivery and governance.
A central repository for all project documentation, with version control, providing a single view of the truth; a consolidated approach to project documentation, policies and procedures.
Ensure compliance with agreed standards, facilitating best practice sharing.
Reduce the burden of reporting while ensuring timely and accurate monitoring of all programmes and projects.
Release capacity to allow focus on the PMO's change management role.
A consolidated view of all projects in a single dashboard leading to more informed strategic and project portfolio decision-making.
Clear guidelines for optimising project health, reporting and compliance in a single dashboard.
Customised to the specific needs of busy healthcare PMOs.
Hosted in Azure Cloud.