Cloud backup is a renewed focus in the cyber security field. It is clear that having a completely secure IT infrastructure is becoming increasingly difficult. There are regular stories in the news of organisations with breaches taking weeks and sometimes months to regain control of their IT infrastructure. That is where a good cloud back up strategy is critical.
In this article we explore the Azure Backup service and what capabilities it gives your IT team to secure your enterprise and quickly resolve any breaches of security.
What is Azure Backup?
Azure Backup is Microsoft's answer to cloud backup. Like most services on Azure, it is a scalable storage solution based on your needs. It can all be managed through the easy backup Centre allowing you complete control of your backup policies.
Azure Backup can be used for a wide range of both Microsoft and non-Microsoft workloads.
Azure Back up features
Centralised management – Monitor, operate, govern and optimise data protection at scale in a unified and consistent manner using Backup Center.
Application consistency – Backup and restore data from virtual machines with application consistency in Windows using Volume Shadow Copy Service (VSS) and in Linux with pre- and post-processing scripts.
Multi-workload support – Back up Azure Virtual Machines, on-premises servers, SQL Server and SAP HANA on Azure Virtual Machines, Azure Files and Azure Database for PostgreSQL.
Durable storage options – Store your backups in locally redundant storage (LRS), geo-redundant storage (GRS) and zone-redundant storage (ZRS).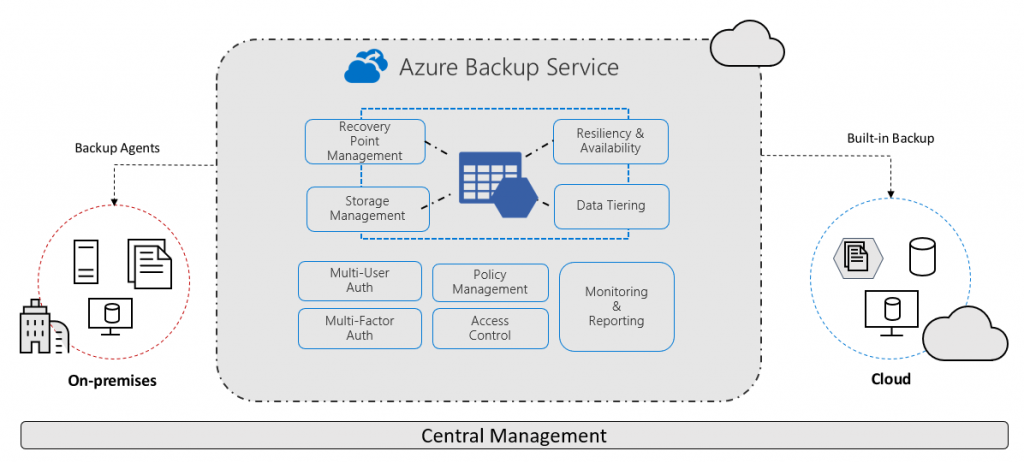 What can I backup?
On-premises – Backup files, folders, system state using the Microsoft Azure Recovery Services (MARS) agent. Or use the DPM or Azure Backup Server (MABS) agent to protect on-premises VMs (Hyper-V and VMware) and other on-premises workloads
Azure VMs – Back up entire Windows/Linux VMs (using backup extensions) or back up files, folders, and system state using the MARS agent.
Azure Managed Disks – Back up Azure Managed Disks
Azure Files shares – Back up Azure File shares to a storage account
SQL Server in Azure VMs – Back up SQL Server databases running on Azure VMs
SAP HANA databases in Azure VMs – Backup SAP HANA databases running on Azure VMs
Azure Database for PostgreSQL servers (preview) – Back up Azure PostgreSQL databases and retain the backups for up to 10 years
Azure Blobs – Overview of operational backup for Azure Blobs
If you don't have your backup in the cloud, then Azure backup is your obvious next step for your IT security. Contact us today to find out more.